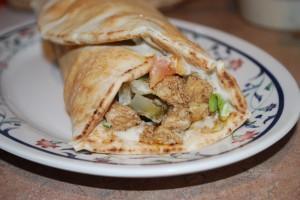 President Obama was the world's most prominent traveler this week, with a much discussed trip to Israel. To mark that, we have some dining advice for POTUS, courtesy of the New York Times' Emily Brennan. She speaks with a chef from Jerusalem who offers guidance on the best places to eat in the ancient city, including where to find the best hummus. And while we're eating our way across the Middle East, let's head to Beirut. At CNN, Salma Abdelnour provides a tour of the wide variety of Lebanese food. Good luck trying to control your portion size.
You might think of tuberculosis as a disease that we conquered about 100 years ago, but it's still rampant in many parts of the world. And it's getting worse. Expat Health's Bill Carriker reports that global health officials are warning about new drug-resistant strains of tuberculosis. TB is the world's second deadliest infectious disease (HIV is the first). In 2011, about 8.7 million people contracted TB, and 1.4 million died. The WHO predicts that as many as two million people may have drug-resistant strains of TB within two years.
There was plenty in the news this week about climbing. The BBC's Gabi Mocatta visits the Andes Mountains to go volcano-climbing. Her targets range in elevation from 10,000 feet to almost 23,000 feet. Advice – start slow. If you'd like to know what mountain climbing is like before you set out on your trip, read this post from Adventure Blog by Kraig Becker – it's a first person account of climbing Patagonia's Torre Egger, one of the Holy Grails of rock climbing. And then of course there's Everest.  Becker – he's been prolific this week! – writes at Gadling about an upcoming trip to Everest Base Camp that will help raise money for an orphanage in Nepal.
We're not overly found of medical tourism – traveling to another country for surgery or medical treatment – but, as Pam Grout reports at CNN, medical tourism is big business.
The Wall Street Journal's Adam Graham recovers from a hard day of hiking at a Japanese onsen – a natural thermal bath, a soothing recovery routine for both his muscles and his brain.
USA Today's Nancy Trejos has a more technologically advanced way to soothe any anxiety you may have while traveling, taking a look at some of the newest apps to help organize your trip.
And at Conde Nast Traveler, Wendy Perrin has 10 questions you should ask before booking a family cruise. I'd add an 11th question – is this cruise going to get stranded at sea with the toilets backed up?