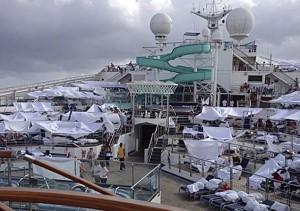 It's been a terrific week to be stuck at sea. And by terrific, I mean awful. The dominant story this week is the completely dreadful cruise on the Carnival Triumph, which was crippled by an engine room fire and spent five days stranded in the Gulf of Mexico. As reported by NBC, more than 3,000 passengers were trapped in a "nightmare of filth" eating cucumber and onion sandwiches. Not the healthiest of getaways, and kind of a black eye for the cruise industry.
At CNN, maritime lawyer James Walker sounded the alarm, claiming that cruise ships are far more dangerous than most people believe. Whether that's true is very debatable, but the industry needs to end what has been a bit of an epidemic of fires – and deal with them better when they occur.
Getting to your destination is almost always the most difficult part of travel. A report from The Economist raises concerns about air quality and maybe even toxic fumes onboard airplanes. A lawsuit that has been filed on behalf of two now-dead British Airways pilots claimes they'd been poisoned by toxic cabin fumes. Pilots clearly fly a lot more frequently than the general flying public and to date there haven't been any reports of passengers falling ill.
Business travel has returned to pre-recession levels, and that's good. But it isn't like the old days – not even the more recent old days. Companies are not footing the bill for travel that's quite as extravagant as it was back before the economy tanked. The Wall Street Journal's Leslie Kwoh and Melissa Korn report that the restricted travel budget applies to even top executives, who are getting used to riding coach.
The editors at Travel Weekly pretty much hate Britain's Air Passenger Duty, a tax designed to discourage travel and thereby reduce carbon emissions.
Expat Health's Ines Cerro has a terrific article this week on traveling with HIV. Numerous countries prohibit HIV positive travelers from crossing into their country, and there are often insurance and medicine restrictions and challenges. Cerro's article offers a brief list of useful tips.
Valentine's Day was this week, and romance was in the air. A lot of people are spending this long holiday weekend on romantic getaways. Of course, things don't always go perfectly, and relationships sometimes end. But if they're going to end you might as well do it in style. CNN's Hiufu Wong gives us the best places in the world to break up with your boyfriend or girlfriend.
We're now in the Christian season of Lent; the fun folks at Jaunted have some ideas about what travelers could give up for Lent this year. And if you don't intend to be giving things up, maybe you want to try something; at Gadling, McLean Robbins writes that a UK travel company is offering passengers a chance to … uh… have a unique experience while flying a mile high. That's healthy, right? No? I'll let you decide.