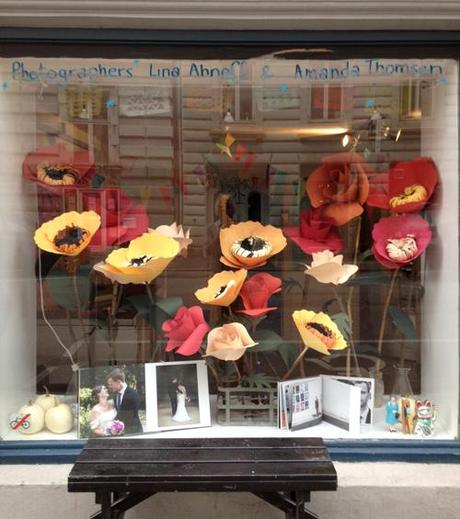 Two things
ONE: After 5 months of being in the studio with some of the best people I know, I FINALLY have a window display. Agh! I'm so embarrassed it took me this long. It was one of those things that was last on my to-do list. It took a little motivation from Sister Mag to whip me into shape. You see, Thea from
Sister Mag
and Ashely from
Chasing Heartbeats
were here in Copenhagen yesterday shooting a feature on me in the studio and I thought it was about high time that it became photo worthy. My favorite response was, "Brittany, your studio is like walking into your blog". Aww! Well, I guess it makes sense considering every project I've ever done is sitting out on display because we just don't have the storage to put it elsewhere. I have to give a big shout out to my helpers this semester, 
Karen
 and Josh for working on the display. Karen's been an amazing help to me the last month and I couldn't be doing it without her.
TWO: You know I love me some dress up parties. Well, I should have thought about this long ago, but let's start now! A Halloween costume contest! Send in your Halloween costume and I'll select my favorites and feature them here next week. Please send the photos by Monday night so they will be featured on Tuesday.

Just email me the pic (at least 500px please!) to
[email protected]
I cannot wait to see them! Dying really. 
THIS WEEK: 
A brand new series with a brand new contributor! 15 minutes to a better blog coming every week! Walking around Apt in
Provence
a last minute Halloween DIY a new
This Guy
post Elaina and Mark on Brooklyn Bride's "
What does it mean
?" A yarn-wrapped headband for
Hello Bee