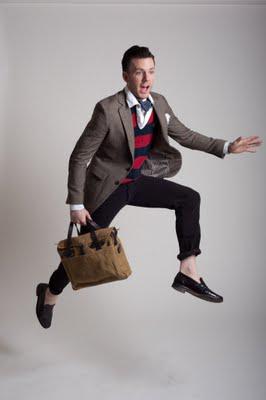 J

ust when I thought I had run out of things to make fun of, my husband got a Brooks Brothers catalog.
He buys shirts and suits sometimes from Brooks Brothers. I've been in the store once, but couldn't get past the front display: mannequin-torsos wearing pink and lavender suits. This store is not for me or anyone in my life, currently or in the future, I thought.
Last week, my husband ordered shirts from Brooks Brothers and the catalog came in the box.
What the hell, Brooks Brothers? I know you're the spokesmodel for preppy (which is now called ivy style, just in case you were wondering), but your models are high school and college age; you can't possibly think that anyone under 60 would show up in public wearing this: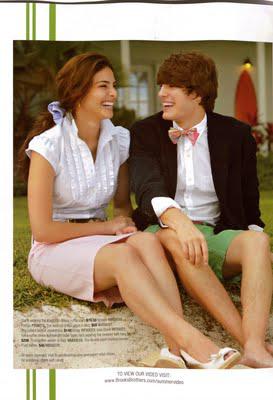 And I'm talking about the boy. The women's clothes in the Brooks Brothers catalog are perfectly fine. Apparently, women are encouraged to stay classy but still keep up with the times. Guys, I'm sorry to report that you have to wear Truman Capote's bow ties and jackets that are two sizes too small for you.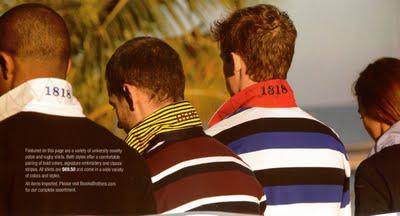 What's more preppy than a popped collar? A popped collar that's stamped with the year your favorite clothing company started doing business.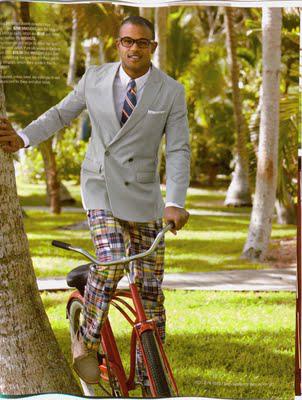 I had a skirt made out of this patchwork material. In 1966. When I was 8. And a girl. Oh, and hey, that's my bike.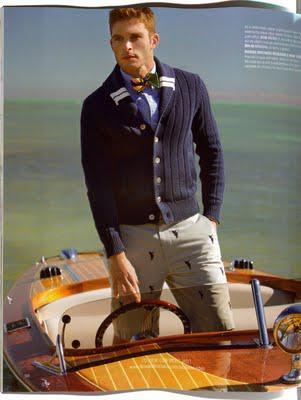 Nothing says My dad has oodles of disposable income better than a jaunty sweater ($145), a hastily tied bow tie ($65, but it's reversible!), and a pair of "playful hula girl embroidered shorts" ($89.50). And a mint condition boat.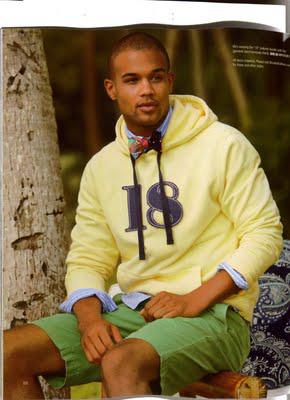 I think the brother might just get into the country club in this disguise. Why else would he be wearing it?
This catalog got me to thinking: Has Brooks Brothers always been this way? So I went looking for old Brooks Brothers catalog shots.
I found this one from 1979: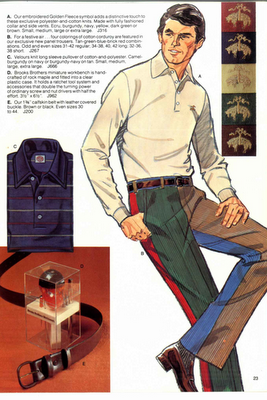 The multi-colored paneled pants might be a tad hum-drum, but on the shirt, you can sport the Brooks Brothers' logo, a sheep being hoisted up by a giant ribbon.
And then I found these two gems:

Well, shoot, I have a pair of cropped pants in a similar pattern that I actually wore up until five minutes ago. Now that I've seen them with saddle shoes, it won't be the same.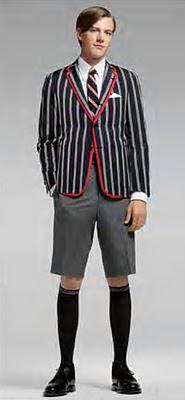 Ringmaster meets English-school-boy meets every-dork-who-ever-got-his-ass-kicked-after-school.
I don't know what year it's from, but this one features the popular "wool flannel fun pants." That's fun as in people will be making fun of you.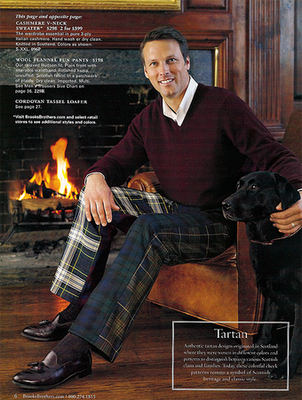 This is the same sweater as worn by the guy in the boat, but Clark Kent here had the foresight to  pair it up with the pink playful whale fun pants.

I
hear that the first Brooks Brothers Catalog came out before 1920, but I couldn't find anything that far back. I did find this one, though, from 1939.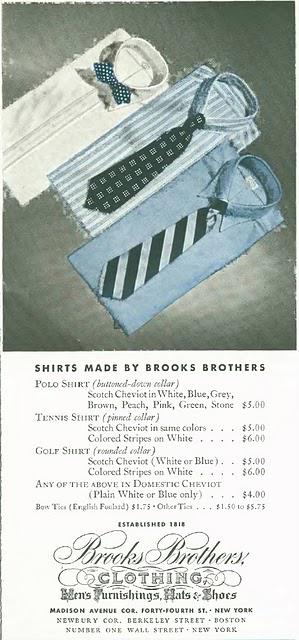 Those three shirts look just like the ones my husband just got. Does that mean that in 70 years, normal guys will be wearing pink pants and bow ties?