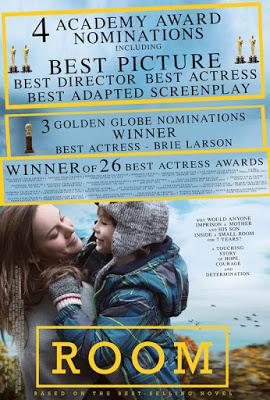 So I'm slowly but surely making my way through all of the 2016 Oscar films. It took me a while, but I sat down and finally watched Room, and the title is not misleading whatsoever. Pretty much for the first half of the film there are only three actors, and primarily Brie Larson who plays the mom and Jacob Tremblay who plays the young son. Up to the point of the opening of the film the mother had been locked up in this room for 8 years I believe, while her son has known nothing else but existence in the room. She was kidnapped and raped for 8 years by the same man as he kept her hidden away. Brie Larson did a fantastic and brilliant job with the role; I think she captured the essence of what a rape victim that has been imprisoned would go through, especially the part of having a child born of rape. Kudos to her indeed. Jacob Tremblay played the young boy with conviction and power that I would think is uncanny for a young boy of his age, but he pulled it off quite amazingly. These two are the driving force of the entire film, and there is really no other reason to mention the rest of the cast, although good, did not have as significant of a presence or performance in the film. Joan Allen plays the captive young woman's mother and William H. Macy plays her father; both did an excellent job with their roles, although I would have liked to have seen William H. Macy given more screen time. The film is a powerful narrative about how to survive imprisonment, rape, abuse, and yet still live for those who love and need you; definitely a story needed for this age of hopelessness and despair. Now, this film is not for the faint of heart; you will cry and possibly be shocked and disgusted at times, though I will say there is nothing graphically depicted on the film thankfully as the allusions are enough to convey the seriousness of the depravity occurring. That being said, if you're a young mother you may have difficulty, or even a young father. This film narrates a story that I and others I worked with dealt with in mental health, and it's fairly tough to watch at times.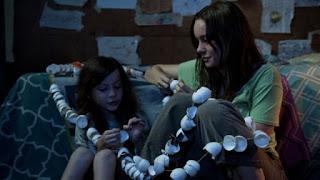 Granted, the film is slowly due to the fact that it is hard to be constantly dynamic when you're stuck in a small room, and the other actor is a small child, but all things given they did fairly well. The directing (Lenny Abrahamson) and writing (Emma Donoghue) was quite good, especially the writing which was also based on a novel written by the screenwriter as well. Brie Larson received an Academy Award for Best Actress, and the film received three other nominations for: Best Motion Picture, Best Directing, and Best Adapted Screenplay. I'd definitely watch it again, and I did like it, but it's one of those films I wouldn't frequently watch due to the intense nature of the subject material, but I would recommend it if you're interested. There are a lot of hurt and damaged people in the world and better understanding them would make huge strides in helping them. I think this film does an excellent job of creating awareness for rape, mental health problems, but ultimately hope and choosing to live and thrive for those who need and love us. Slowly but surely I am making my way through my musical, and am on Act II, so halfway there, but it is of course the second half that will be the more difficult to write, so we shall see how it goes.
Room clip
Brie Larson interview
The BFG trailer (it looks interesting, but not at the same time).
The Assassin's Creed trailer (looks like it has some possibilities, but will most likely be dreadful).