Meet Goliath Birdeater spider. This one is sort of like a big brother in the tarantula family. This particular Goliath Birdeater was spotted by entymologist Piotr Naskrecki, while he was in the rainforests of Guyana. Apparently, this spider has the leg span of 30 cm (nearly a foot) and weighs up to 170 g, which is actually close to the size of a young puppy.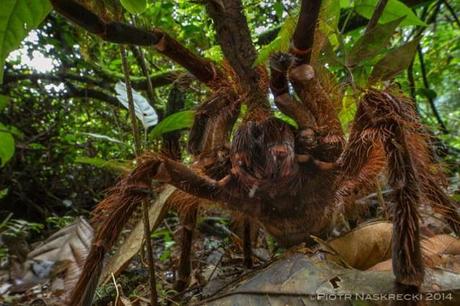 Read Also:  Giant 5-Foot Long Earthworm Found in Ecuador
"Every time I got too close to the birdeater it would do three things. First, the spider would start rubbing its hind legs against the hairy abdomen. "Oh, how cute!", I thought when I first saw this adorable behavior, until a cloud of urticating hair hit my eyeballs, and made me itch and cry for several days," Naskrecki explained his encounter with the spider. "If that wasn't enough, the arachnid would rear its front legs and open its enormous fangs, capable of puncturing a mouse's skull, and tried to jab me with the pointy implements."
Take a closer look after the jump.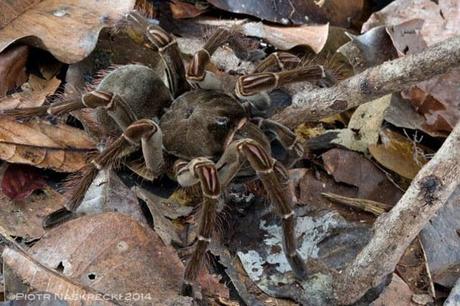 [Via: Geekologie / Photo Credit: Piotr Naskrecki ]
(All images, trademarks shown on this post are the property of their respective owners)
Follow @nrjperera – Roshan Jerad Perera