Woooah there Dumbo!
We're going back to Antwerp! – and we ain't talking a late summer break for waffles & wee statues…
We're talking Antwerp Mansion Antwerp!
It's Rusholme's best kept secret! (-ish) And we're filling the place with…
RIOT JAZZ BRASS BAND
- 8 horns, 1 batterist & 1 MC Chunky doing the voodoo that they do, so well!
EXTRA LOVE
! A 10-man machine of rasta-soldiers that's so much more than what the Black Eyed Peas were looking for when they first send out… come find the 
EXTRA LOVE
!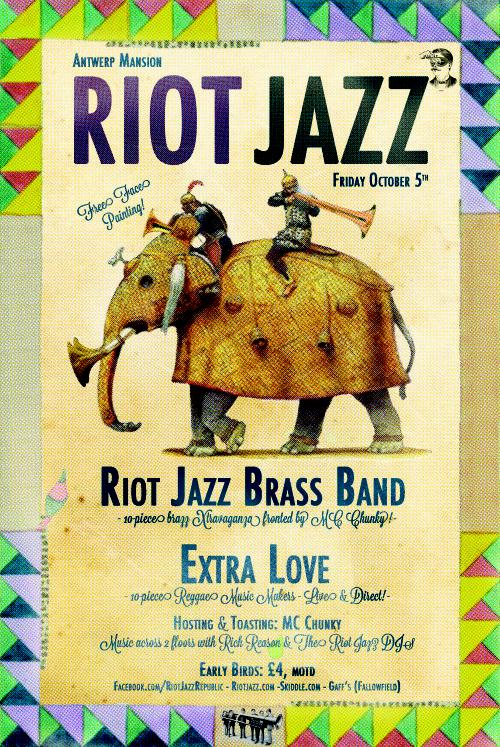 To summarise:
RIOT JAZZ BRASS BAND with MC CHUNKY
EXTRA LOVE – 10-piece live Reggae
With multi-level melodies across 2 floors from:
Rich Reason + The Riot Jazz DJs
Hostages and Toastages by MC CHUNKY
Bingobango!
xxx
FREE FACE PAINTING!
100 x £4 Tickets
100 x £5 Tickets
100 x £6 Tickets
http://www.skiddle.com/events/11731474/
CHEAP DRINKS ALL NIGHT!
—————–
In other news…
Our Soundwave beatfellows are cooking up a reunion down in the Big City that will bore itself into the memory holes of modern consciousness.And you! Sweet Riot Jazz fan, get a 50% cheaper ticket by using this link: 
http://www.wegottickets.com/sct/wEw7XNFaC7
Aye Caramba!