£4 / £6 / £8 Tickets: http://bit.ly/1iLYO0g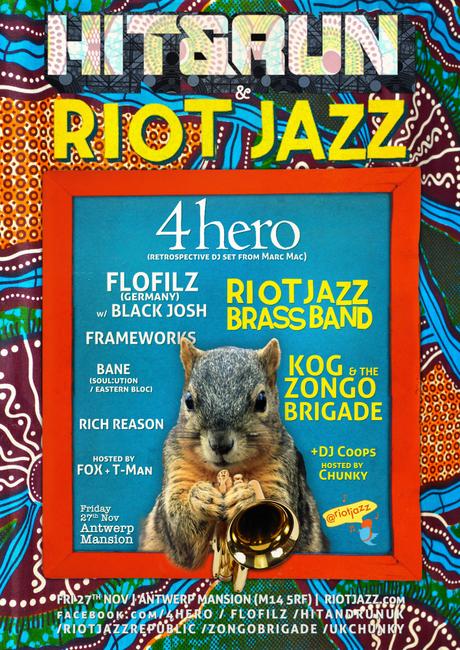 It's been a minute, but 2 of the Leviathans of Manchester Club-land join forces to bring you 2 floors of the finest entertainment this side of Pluto.
Delighted to be bringing you a very rare set from one of UK Dance musics most influential and venerated groups, the incredible 4Hero.
On top of that, we have an incredible live Afro-beat band in the form ofK.O.G & The Zongo Brigade, as well as bringing FloFilz across from Germany again to perform alongside Black Josh Ape.
Add to that the amazing Riot Jazz Brass Band, plus Frameworks who is fresh back from a US Tour, you are in for a right treat :)
Line-up:

HIT & RUN Floor
4HERO (Restrospective DJ Set) – Extended set.
FLO FILZ (Germany) with BLACK JOSH
FRAMEWORKS (Live set) – Branches EP launch.
BANE (Soul:ution / Eastern Bloc)
Rich Reason
Hosted by FOX + T-MAN
∆∆∆∆∆∆∆∆∆∆∆∆∆∆∆∆∆∆∆∆∆∆
RiOT JaZZ Floor
The RIOT JAZZ BRASS BAND – Live!
ZOG & The KONGO BAND – Live!
DJ Coops
Hosted by CHUNKY
Related