I am really on a roll with the book reviews these days. This could be because I have reduced attending blog events, my weekends are fairly quiet these days, and I have been sticking to light reading. Whatever the reason I have found the time to read a lot and write about the books I have been reading.
The latest book I read is This Charming Man by Marian Keyes.
About This Charming Man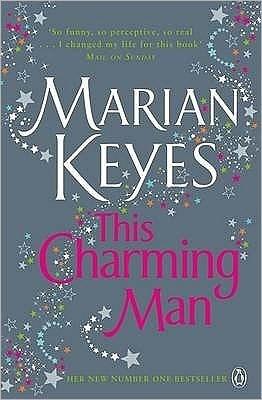 Everybody remembers where they were the day they heard that Paddy de Courcy was getting married.

But for four women in particular, the big news about the charismatic politician is especially momentous.
Stylist Lola has every reason to beinterested in who Paddy's marrying - because she's his girlfriend, yet she definitely isn't the bride-to-be. Journalist Grace wants the inside story on the de Courcy engagement and thinks Lola holds the key while Grace's sister, Marnie, still can't forget her first love: a certain Paddy de Courcy. And what of the soon-to-be Mrs de Courcy? Alicia will do anything for her fiancé and is determined to be the perfect wife. But does she know the real Paddy?

Four very different women.

One awfully charming man.

And the dark secret that binds them all.

Synopsis from goodreads
My Review
I thought the synopsis terribly hackneyed at first, and I wouldn't have bothered picking it up at a yard sale, except for the fact that it is by Marian Keyes. And I know that Marian Keyes has the knack and skill to write an on the surface chick-lit that ends up being so much deeper. She's not afraid to have flawed heroines - drug addicts, alcoholics, generally deluded women all populate her books. And I love the darkness in her books.
As expected, This Charming Man did not disappoint. On the surface, it's a story about four women who have at some time been involved with Paddy de Courcy - a smarmy Irish politician. At first, it looks like he's just a superficial charmer who loves and leaves his women. But as the book progresses, it becomes clear that he is a lot more than that.
The book takes turns with each woman going back into the past and trying to reconcile their old memories of him and come to terms with his recent engagement.
I sometimes wanted to throttle Lola and Marnie because they just seemed so deluded in their love for him. But at the same time, I could also understand how they might have come to this pass. That's the beauty of Marian Keyes' books. She almost always gets you to empathize with her characters, even when they are doing the dumbest things.
I loved Grace the most though - she's strong and tough, but she still has a secret vulnerability, and I never guessed it until close to the end. The only character I was disappointed with was Alicia - whose point of view is never shown much.
A story about four women ditched by one sleazy man has a certain predictable path to follow, and This Charming Man follows that path. However, there were some surprises and tiny detours along the way that I enjoyed. I was happier to see the detours deftly woven into the main story by the end of the book.
Last Thoughts
The ending was a tad bit too tidy, but I don't think I minded that so much. All these women had suffered so much that I was quite happy for them to get their predictable happy ending.
Overall, one of the better chick-lit books out there. It's a tad on the dark side, and there may be some disturbing bits (domestic violence), but on the whole I enjoyed this book and recommend it.
You can also buy a copy of this book from Amazon.