No, it's not X-rated.  No, I don't insult Mohammed or Ataturk.  I'm simply committing the offense of posting on blogspot.
Once again Turkey is taking the baby + bath water approach to internet disputes.  Now that we are finally allowed to access Youtube, after a two-year ban (because of some anti-Ataturk videos, I'm told),  we now learn that the Turkish government has blocked access to blogspot because of links to live-stream sports events whose distribution rights belong to Digiturk.  Why Digiturk cannot simply sue the particular offenders, rather than having the Government block the millions of blogs that have nothing to do with this dispute, is beyond me.  But then again, so are many things in Turkey.
However, as was the case with youtube, there are ways to circumvent this via proxy servers.  But it's extremely annoying to be unable to navigate from the site, and it's unlikely that people looking for blogs about Turkey are going to go to the trouble of going through a proxy server.
Well, this blog was originally intended for friends and family who wanted to keep up on what the heck I was doing here,  and since none of them are in Turkey this function won't be affected.
So, what else is new?  Oh yeah, I lost my job.  My adult students have decided not to continue their lessons.  Whatever.  My parents will be here in three weeks, and now I don't have to worry about rescheduling classes.
And I almost got another job right afterwards.  Actually, "job" is a bit misleading.  One of my cohorts at Ayyas, Dave, had been offered the opportunity to teach two hours a day for six weeks in Kas for room and board and thirty lira (about twenty dollars) a day.  They had a group there that was supposed to start the next day.    Andy had also gotten a call about this job, and after he declined it the wages were raised to forty lira a day.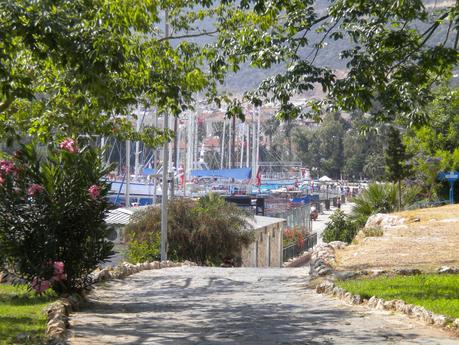 Dave was looking at it as a "paid vacation" in Kas.  Yes, Kas is beautiful, but how may hours a day can you look at the view?  The main thing to do in Kas is to take boat trips around the area.  It's definitely a summer resort.  Kas in March?  How is this any more a "vacation" than Konyaalti in March?  Dave's idea was that nobody would want to do this for six weeks, but if we divide it among three or four of us, we could work it out.  I was game for that.  This wasn't really an exciting opportunity, but it was a way to make a connection with another teaching organization, and since I was now unemployed except for my Saturday morning kids' class, it seemed worth a shot.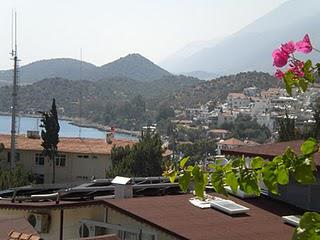 The next day Dave e-mailed the company and copied me and Andy on it.  I got a call later that day (Thursday)  requesting me to come down the following day.  I said I couldn't leave on such short notice, but that I could leave on Saturday after teaching my class.  This was unacceptable.  Okay.
Then Dave e-mailed saying he's arranged everything, he would go down the next day, stay a week, and then I would take over for a week, and then he and Andy would alternate.  And by the way, they denied telling Andy they would pay forty lira a day.  Great.  I just love working with people who don't keep their word.  But by this time I felt I couldn't leave Dave in the lurch, so I agreed and e-mailed back with the specific dates I would be there.   The next day Dave e-mailed from the bus station saying the whole thing was canceled.  Apparently that's business as usual here.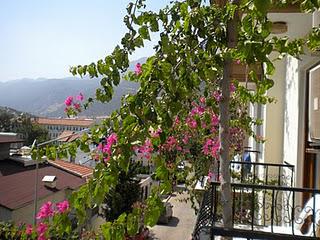 So I forgot about it and went to the Symphony concert.  It wasn't one of their better nights.  I'd been looking forward to the Dvorak cello concerto, but the soloist slid between every note and seemed to have no sense of rhythm.  It was almost as if he was trying to throw the conductor off.  It was quite a mess, though as far as I could tell I was the only one who noticed.
The second half of the program was better.  Night on bald Mountain was fine except for the perpetually out of tune flute section, and the Tchaikovsky Romeo and Juliet was well done and enjoyable.
I then walked across the overpass and waited ten minutes for the dolmus (mini-bus).  A large bus stopped in front of me, but it wasn't going my way.  Meanwhile,  two domuses  which would have taken me home drove right by on the other side of the bus.  Great.  Now I had to wait another fifteen minutes for the next one.  I decided instead to walk to Migros and catch one of the many dolmuses that stop there.  I also wanted to go upstairs at Migros to use the bankomat, since I was out of cash.  Migros is open until eleven because of the movie theaters.  Or so I thought.  It turns out they are open until eleven to let people out, but they don't let anybody in after ten or ten-thirty (don't know exactly).  But I did eventually catch a dolmus home.