In memorial events and in our hearts we will continue to remember the countless emergency service personnel, families, friends, and neighbors whose lives were lost or completely altered forever on 9/11.
9/11 was a tragedy. I have not forgotten it. I will never forget that day.
9/11 has become a transition for some families, who are now turning from mourning to preserving memories of their loved ones through good deeds. The heroic acts of all those killed trying to save others that September morning has spawned a growing movement. The goal is to ensure that future generations remember not just the horror of the attacks, but also the extraordinary outpouring of humanity during the days, weeks, and months that followed. It was the worst possible day imaginable, and in some ways, a remarkable day, too, in the way in which people responded. Let it not be remembered for the evil acts of violence targeted at fear, panic and death. But remember the human spirit, the brotherhood of mankind, and the goodness that not only New Yorkers but Americans and the world over have dedicated to saving our most precious resource: life!!!!!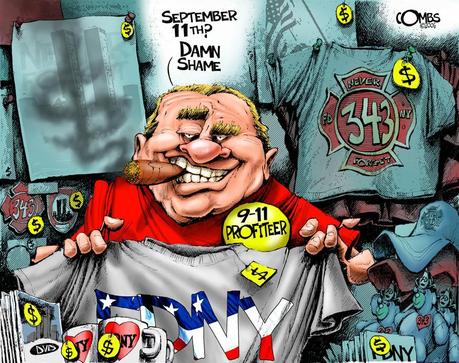 Look-out folks, the 9/11 predators are out in force!!! They are selling everything from "commemorative" ball caps to stickers, patches, posters, helmets, t-shirts, t-shirts, t-shirts, and t-shirts! Some say they're selling these items for a charitable donation (and that's fine) - but please check their true intentions before buying. Verify the charity, if you can. I see these folks as parasites feeding off the misery of others for a simple profit and have pulled no punches on my opinion. This cartoon pretty much sums up my thoughts on these people... repulsive!
Let us pause to remember our heroes in special uniforms... those not in uniforms... who died trying to help so many souls - our first responders – firefighters, police officers, paramedics... and let's remember those doctors, nurses… countless others including many civilians who rose to offer assistance.  Let us remember those left behind to carry on without their loved ones.
In Memory of all those lost and forever missing from the events on September 11, 2001 ... at the World Trade Center, the Pentagon and the thwarted mission that landed in Pennsylvania. We shall forever be united in courage & grief.