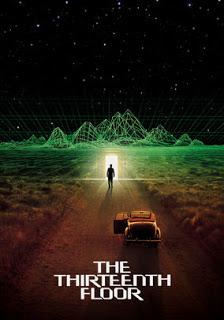 Directed By Josef Rusnak
Cast: Craig Bierko, Gretchin Mol and Armin Mueller-Stahl
Games are becoming more and more realistic nowadays but what if you could actually jump into the game world and experience it first hand? Ladies and gentleman I present to you, the Thirteenth Floor.

Plot
Our story begins with a man named Mr Fuller, the creator of an alternate reality simulator. As he is about to unveil his creation to the world he is brutally murdered. Luckily, he left a letter for his colleague Douglas Hall to find within the parallel universe speaking of the worlds limitations. The letter is the result of everything that happens during the film. Imagine...Cluedo within a multi-verse.

 Acting
I really enjoyed watching the main character played by Craig Bierko, mostly thanks to the way that he brings great power and enthusiasm to a truly intriguing character. Thanks to the intricate storyline, in which characters from different worlds are adopting other characters from other worlds; we really get to see the actors put through their paces as they try to adapt to their new personae. I felt that Everyone in this slightly unrecognisable cast (depending on your film history) managed these transitions perfectly and did well to bring life each of the varying characters they played. 


 Good Points 
As I have already said the acting is on top form. Craig's facial expressions mixed with his flexible and tactile methods of switching between each embodiment make for a real thrill ride in character development. Another actor who's part - while it may only be short - manages to shine, is the old man named Dr fuller at the beginning and end  of the film. His performance depicts that of a gentile old man, who means to bring only goodness and escape to humanity; however, In the end his creation turns out to have a much more negative effect.
This story is really well told given that there are so many intricate pieces to remember and to involve. I feel that they have managed bring all the worlds together and keep a strong narrative together throughout. I feel it is a lot clearer than the narrative of inception and so you will most likely be asking fewer questions by the end of the film. 

Points for improvements
  The film uses a technique in which characters from one world end up in other world by inhabiting the bodies of our five main characters. This does work for most of the film but it can become quite tricky to follow who is who at times and I feel the film relies too much on the acting talents of the star themselves when at times they don't always shine through.

 Summary
If I were to add up this film in a few words I would say that the thirteenth floor is a benchmark in the great Sci-fi mind bending genre. It is like a mixture of matrix, inception and a great film called Dark city. The funny thing is however is that it seems these films have borrowed many of their elements from this film. So that's why it is such a benchmark in Sci-fi Cinema.
I

f

you have enjoyed my review I would love to hear from you and if you would like to make a request for the next film I should take a look at let me know and I will get to work! 
                                                                                              Yours

,

ThePopCo

rnPreacher.