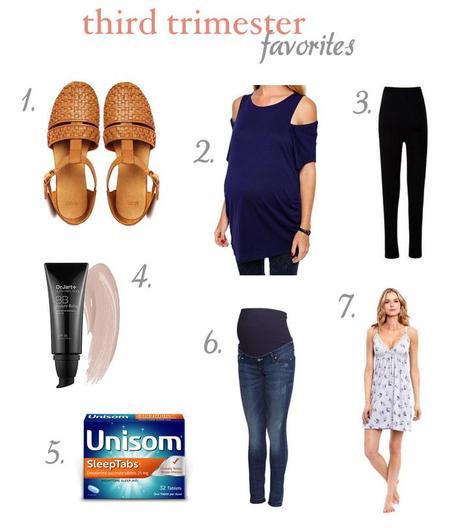 1. Jellyfish leather t-bar flats - Last month, ASOS was having a huuuuge sale, and I decided to treat myself to something that would surely fit at this point in pregnancy: shoes. At 8.5 months pregnant, I'm pretty much wearing flats exclusively, and these just so happen to look great with everything.
2. Split shoulder tee - You know where I'm not gaining weight these days? My shoulders. Might as well show those bad boys off. (Seriously though, this shirt is super flattering and one of my faves this month.)
3. ASOS shapewear leggings - We went to Santa Cruz a couple weekends ago—you know, where it's not 103 degrees—and I was finally able to bust out my favorite maternity leggings. These fit like a dream, and I plan to wear them all winter long while my body slowly shrinks back to normal.
4. Dr. Jart BB cream - I have terrible skin when I'm pregnant. Terrible. My skin gets super oily and I break out a lot more than usual. This is my go-to "face base" and I cannot recommend it enough. I got a sample of this in my Birchbox a year ago, and have been hooked ever since. Some days I add a light layer of foundation on top, but most of the time I just apply concealer under my eyes and I'm good to go!
5. Unisom - Real talk: I am addicted to sleeping pills. Okay, not really, but kind of. I have legit insomnia when I am pregnant. As in—I will wake up at 3am and watch TV for two hours on the couch, eating bowls of Honey Nut Cheerios like it's my job. And then I'll work on my laptop until everyone else wakes up, at which point I'll be a walking zombie for the rest of the day. It's not cute. After complaining to my midwife, she suggested I try Unisom and it has been a LIFESAVER this pregnancy. I take half a tablet almost every night and have been sleeping like a dream. This is probably my #1 pregnancy staple this time around.
6. MAMA skinny jeans - Confession: this was an impulse buy last week. I don't know, I got caught up in the Pumpkin Spice Latte hype or something. It's still way too hot to wear jeans but I tried these on in the fitting room and couldn't believe how well they fit. I couldn't justify buying a "real" new pair of jeans this fall/winter since I know my body will be changing so much, but $35 for skinny jeans with a stretchy waistband seemed like a reasonable purchase. Happy sweater weather to me.
7. Floral nightgown - Last month I went shopping with my friend Christina who is due one week before me. We treated ourselves to new nursing bras, new sweatpants, and pretty new nightgowns to bring to the hospital. I wear this every single night and basically want to live in it. Plus! It has nursing straps, which is perfect for middle-of-the-night feedings.
This officially concludes the roundups of pregnancy faves, but in case you missed em, I am still enjoying all of these as well: first trimester faves // second trimester faves