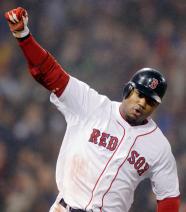 It was a night of a big time pitching matchup at Fenway Park on Thursday night, with Josh Beckett taking on Justin Verlander, who recently no-hit the Toronto Blue Jays.
Beckett went six innings and allowed just one run before leaving with neck tightness. Verlander allowed home runs to J.D. Drew and David Ortiz (both bombs to right). But he did strike out 9, and went eight innings.
Beckett was succeeded in the 7th by Matt Albers, who allowed just a single. But Beckett's good work was wiped out in a flash by Daniel Bard, who gave up back to back shots to Brennan Boesch and Miguel Cabrera to start the eighth.
And it looked like the Old Devil Bullpen would strike again in the ninth, as Jonathan Papelbon did another tightrope walk, allowing two singles and a walk with one out. But he did the same thing he did last night, striking out the last two hitters to end the ninth. This time the game was tied.
The Sox loaded the bases with no outs in the bottom of the ninth when Jed Lowrie hit a popup into short left that dropped in, but pinchrunner Jose Iglesias had to hold until it came down and was forced at home with the rare 7-2 forceout.
This set the stage for Carl Crawford, and he came through yet again, with a single to left center for his third game-winning hit this month and the Red Sox sixth straight victory.
After the game, the Red Sox signed Kevin Millwood to a minor-league contract and acquired lefty reliver Franklin Morales from Colorado for a player to be named later. He has a 3.85 ERA this season in 14 appearances.
Trading for Morales also means the end of the road for Hideki Okajima in Boston. He was designated for assignment to make room for Morales.