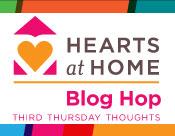 Welcome to another edition of Third Thursday Thoughts, brought to you by the wonderful people at Hearts at Home! Every third Thursday of the month, we share our thoughts on the topic of the month. This month's topic: No More Perfect Marriages.
Growing up, I thought my parents had the perfect marriage. This year, they'll celebrate their fiftieth anniversary, and they still like each other! I never saw them fight. They might have been a little annoyed with each other sometimes, but they never really had arguments. They were very lucky. Needless to say, as an impressionable young girl, I thought that all marriages should be that way -- that it wasn't normal to fight or disagree or have arguments. Surely, I thought, couples who fought were headed for divorce court. Sometimes, that's the case, if arguments are extreme or the result of two people just being too inflexible or too different to make marriage work. But most of the time, I've found, both from watching other couples and in my own relationships, that having arguments isn't a sign of doom.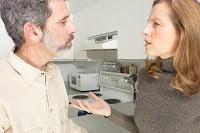 Unfortunately, I still have a long way to go with this realization. I hate conflict and tend to avoid arguments when I can. But I've also learned that when my husband and I do disagree, it doesn't mean that we weren't meant to be together or that we should move on to someone who would be more "perfect" for us. In fact, arguing gives us both a chance to clear the air, as long as we "fight fair" (no name-calling or physical conflict, digging up old hurts, etc.). I don't enjoy an argument, but at the same time, I often feel a sense of relief when it's through because we aired our opinions instead of keeping them inside.
Of course, if you can manage to handle your differences without arguing, like my parents seemed to do, that's wonderful. And perhaps my parents even had their own fights but just chose to conduct them in private, away from their children. But marriages can survive arguments when they lead to resolution and compromise, and I'm pretty certain that ALL successfully married couples have learned those lessons.
What do you think? Is fighting between spouses healthy or unhealthy? Do you think it's a good idea to "clear the air" or should arguing be avoided?
For more posts about imperfect marriages, hop around to the other blogs participating in this month's Third Thursday Thoughts!
CLICK HERE
to find a list. (Check it throughout the day as more links are added!)

DISCLOSURE: All Hearts at Home bloggers will be entered into a monthly drawing to win a book. No financial compensation has been provided.