The crowd was clean-cut and full of families, but that did not stop them from rockin' out to southern Christian rock band Third Day and Matthew West on Saturday night at the Berry Center in Cypress, TX.
Co-headliner Matthew West started his set with the prayerful, Coldplay-like, and soulful single The Motions with the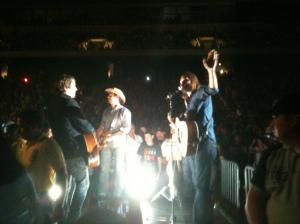 rallying cry "What if I had given everything instead of goin' through the motions?" West, at times, is known for being a bit autobiographical in his songs and on 
Next Thing You Know
, this was no exception. It tells the story of a young West and how he came to faith in Christ that he currently has – bumps and all.
West talked a bit about his latest album Bigger Picture and how, instead of writing the usual songs about his life as a Christian, he asked people to send in their story of their faith journey. The response he recieved was overwhelming: 10,000 stories from the US and worldwide! One story that he shared was about a Christian woman whose daughter wasn't a Christian. Her daughter suffered a near-fatal car wreck and was basically brought to her knees by the event.
The audience was all nice and warmed up by the time Third Day, who blasted the audience away with their searing Hendrix-style guitar solos. "Is anybody having a good time?!" exclaimed lead singer Mac Powell. Many people worshipped during their songs.
However, the boys kicked it into high gear when they did a mini acoustic set on a small stage in the middle of the arena.Powell asked for some requests from the audience. One shouted Consuming Fire from their 1996 self-titled debut album. Another shouted "Free Bird" by Lynyrd Skynyrd.
It was an amazing show that at times had you either worshipping the Lord, rockin' out, or both.
Special thanks to Joanna Bonner and Daniel Jackson for the tickets.