The reductionistic mind doesn't care for mystery. Unlike a lover, the unknown is a problem to be solved so that the march of nice, neat solutions may continue to march on, unabated. Fear of fuzzy thinking leads to a coldness that those of us experiencing life find not a little unsettling. Take the cougar, for example. Right now I'm in one of the few habitats of the grizzly bear in the lower 48. It is also home to mountain lions (pumas, panthers, ghosts of the Rockies). Just a week before I came here a local website posted a rare photo of a cougar caught unawares. These creatures are seldom seen, and are officially extinct for most of the country east of the Mississippi. That doesn't stop them from existing, however. Reports from my native Pennsylvania continue to be filed. I saw tracks when I was a child, but never saw an actual cat. A friend in West Virginia had seen one shortly before we visited that state some years back. Even New Jersey still gets the occasional sighting. Officially these are misidentifications.
I recently read a couple of books that addressed the beast of Dartmoor, in the United Kingdom. Dartmoor is a wild and remote area and for many years an uncomfortable story has circulated about an unknown creature that haunts the moors. The story is older than Sherlock Holmes as Sir Arthur Conan Doyle had the detective face the hound of the Baskervilles in that region. Those unhappy with the unknown have sought a rational explanation and now some are claiming that escaped cougars are the basis for the tale. A zoo owner even declares that some of his escaped in the 1980s, causing the stories to arise. The fact that the beast had been part of folklore for over a century already at that point suggests that this may be a little too little a little too late. It's better than mystery anyway.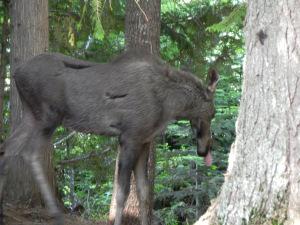 My minimal experience on Dartmoor didn't lend itself to seeing folkloristic beasts. Even my somewhat extended time in this wilderness hasn't led to a cougar or grizzly sighting. The mysterious gains its reputation by rarity. The thrill of seeing a relatively common moose is akin to theophanic. I know it's just a big deer. It's more than just a big deer. Wonder is an essential part of the human condition. Without it we become as soulless as the mechanistic universe some so desperately want to explain neatly, according to the rules. Cougars escape. Cougars escape detection. What else might we be missing in a universe we've only just begun to explore.