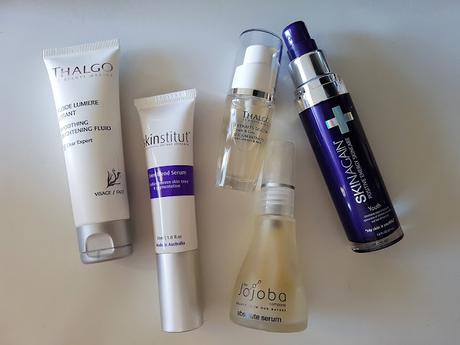 Face serums are an essential part of my skin care routine and in my opinion they are an important part of any skin care routine. Today I'm showing you the serums I'm currently using and loving. Some of them I've been using a few months and others I've been using and repurchasing for years.
Thalgo Smoothing Brightening Fluid - For years I've been using and loving Thalgo products, they are truly beautiful. I'm terrible and often forget to exfoliate my face. My Smoothing Brightening Fluid makes up for that, it helps to keep my skin feeling smooth and looking healthy. I use it once a day for a noticeable difference in my skin condition.
Skinstitut Even Blend Serum - This is a miracle worker. It's the only product I've tried for dark patches that actually works. Over the years I've tried lots of different lightening products, this one is my holy grail. After eight weeks use I noticed a significant difference in my dark patches. One had gone all together and one was a lot lighter. I'm now on to my second tube and will never be without Even Blend Serum. If you have dark patches you need this.
Thalgo Silicium Extracts - Finally an anti-aging serum that I can use on my neck! For some reason the skin on my neck is extra sensitive, until I found Silicium Extracts I hadn't been able to use any anti-aging products on it. This is designed to use on the jaw and neck to prevent skin sagging. I may be imagining it but I'm sure that my jaw is looking firmer than it used to.
The Jojoba Company Absolute Serum - Absolute Serum is a quiet achiever. It's one of those products that I think is ineffective until I stop using it and my skin condition deteriorates. With once daily use makes my skin feel very soft and smooth.
Skin Again Youth - I love the philosophy of Skin Again. They're all about celebrating natural beauty and being positive. Their products come with an affirmation to tell yourself as you're applying the product. Whilst I don't always do that, it's nice to remember to be positive. I use my Youth serum once or twice a day, it plumps out my fine lines and makes my skin look healthier. 
I purchase my Thalgo products from the Facial Co, The Jojoba Company products from my local pharmacy, Skinstitut products from Adore Beauty and Skin Again products from their website. 
What's your favorite serum?
Note: The Thalgo and Skin Again products were provided for review. The links above are not affiliate links they are just for reference.