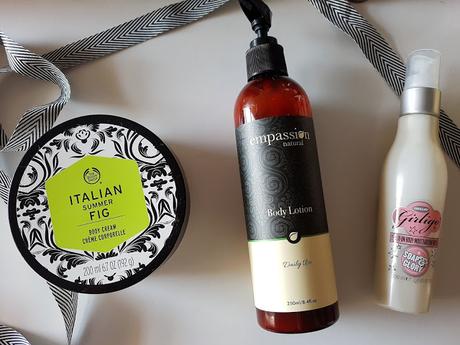 The Body Shop Italian Summer Fig Body Cream - Oh how I love the Italian Summer Fig fragrance, it's such a beautiful fresh scent. The body cream is the perfect compliment on those days when I'm using the perfume and want the scent to last longer. I'll also use it on days when I'm not wearing perfume but still want to smell lovely. Being a body cream

this isn't as thick as the body butters, so it's ideal for every day use.

Empassion Natural Body Lotion - This has been my go-to daily moisturiser. It's richer than I expected, sinks in quickly and is fragrance free. The pump top is mess free and being unfragranced it doesn't clash with my

perfume.
Soap and Glory Girligo Spray On Moisturising Lotion - When I was pregnant with Chai I was so sensitive to fragrance that I couldn't wear perfume. Girligo was the only scent that I could wear because it was so light. Whilst it isn't a perfume it is a beautifully scented body lotion that works well as a very light fragrance. Hydration wise Girligo is very, very light. So light in fact that it's a bit of a push to call it a moisturising lotion, it's more like a moisturising perfume.