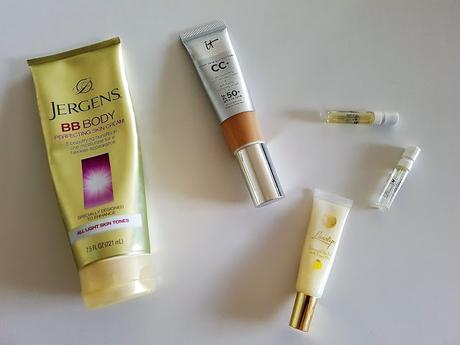 After falling off the wagon for a while, things to try Thursday is back!
Today I've got a random bunch of products that I've been loving over the last few months.
Jergens BB Body sat unloved in my cupboard for ages until I finally pulled it out this summer. They claim that it has five beautifying benefits:
Hydrates and smoothes

Brightens and illuminates

Evens skin tone

Visibly firms skin

Minimises the appearance of imperfections 
I can't say that I agree with all of the claims. It's a body lotion so of course it hydrates and smoothes, that's what body lotions are all about isn't it? Immediately after application my legs do look a little brighter, so I'll agree with the brighten and illumination claim, but as for the rest of the claims I call bullshit. Having said that, BB Body is a lovely body lotion that I'll happily repurchase. It's hydrating, absorbs quickly and smells good which is everything I want from a body lotion. 
Lanolips Lemonaid Lip Aid has been in my collection for a while now but was very unappreciated. I'd use it every now and again but it wasn't love until recently. I exfoliate my lips regularly and use petrolatum free lip balms, however my lips were really lumpy and no matter how much I exfoliated them I couldn't get rid of the lumps. In desperation I pulled out my Lemonaid Lip Aid and used it one night before bed. When I woke up the lumps were nearly all gone! After the second night they were all gone. It's now become my night time lip balm and my lips love it. No more lumps, yay!
I'm having a bit of a love affair with It Cosmetics at the moment. My latest love is their CC+ Colour Correcting Full Coverage Cream. It has an SPF of 50+ and doesn't irritate my skin at all. On hot days I'll wear it on top of sunscreen but on days where the UV index isn't as high I'll use it alone. It gives natural looking full coverage and I don't even need to use a powder over the top. 
In one of my Nourished Life orders I purchased some Weleda perfume samples. I've been wanting to try their perfumes for a while but don't have any stockists locally, so when I saw that Nourished Life have samples I bought all three of the scents. Whilst they're all lovely my favorite is Jardin die Vie Rose which is a beautiful rose scent. If you are on the hunt for a natural perfume check these ones out!