This is the 68th world-famous FOTM Caption Contest!
Here's the pic: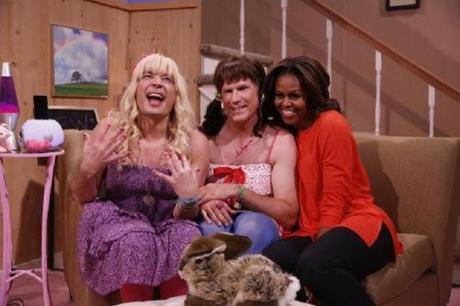 The above pic was taken when Mooch and actor Will Ferrell were invited guests on  the new Tonight Show, after Jimmy Fallon took over the show from Jay Leno. NBC had sacked Leno, despite his high ratings, reportedly because of Leno's Obama jokes.
You know the drill:
Enter the contest by submitting your caption as a comment on FOTM, not via email.
The winner of the Caption Contest will get a gorgeous Award Certificate of Excellence and a year's free subscription to FOTM! 
FOTM writers will vote for the winner.
Any captions proffered by FOTM writers, no matter how brilliant (ha ha), will not be considered. 
This contest will be closed in a week, at the end of next Tuesday, March 11, 2014.
To get the contest going, here's my caption:
"We're free! We're free!" With Jay Leno gone, the Tonight Show is the new playground for all trannies, pre- or post-op!
For the winner of our last Caption Contest, click here.
Seen any good pics that you think would be great for our Caption Contest? Email them to us! 

~Eowyn