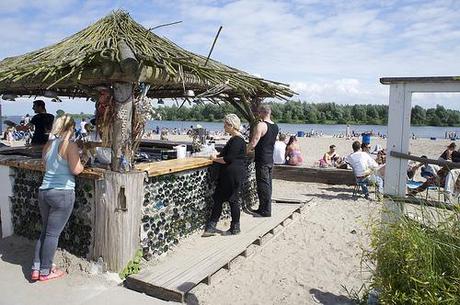 Blijburg is a beach we sure wouldn't mind being stranded on!
katielips / Flickr Creative Commons
Though the Netherlands and typical summer weather seem to be having an on-again/off-again relationship this year, we have had a number of gorgeous summer days.
And some of those days have been hot, Hot, HOT!
Luckily, Amsterdam offers plenty of wonderfully wet ways to cool off this or any summer.
Did your mind head straight for Amsterdam's famous labyrinth of canals just now?
Well, while you're not forbidden to jump in and doggy paddle around, you're advised to wear goggles and earplugs, not to swallow the water, and not to dive in if you have any open wounds.
So you might just want to rethink the urge.
Besides, why would you want to take a dip in nasty canal water when you've got options like these:
The new hot - or should I say "cool" - spot to go for a swim in the city is BadBuiten. The outdoor pool and bar are housed on a boat moored on the Korte Oudekerkerdijk off the Amstel.
Speaking of the Amstel, Amsterdam's best known river is also a great place to take a swim. Or relax on the banks.
Check out the Olympic-sized pool at the Flevoparkbad. Located in Amsterdam Oost, the outdoor complex also includes children's pools.
There are a number of options at the Amsterdamse Bos including the kiddie pools, Het Kleine Kinderbad and Het Grote Kinderbad; a large pond known as the Grote Vijver; and numerous unofficial swimming areas.
Right next door, you've got the Nieuwe Meer, a large lake with two official swimming areas (Oeverlanden and Noordoever) and multiple beaches.
A patch of green next to the WestCord Art Hotel in the Spaarndammerbuurt is home to the Brediusbad, an outdoor pool with something for all ages.
In Nieuw West, there's De Sloterplas, which is a pond located within a large park. [Note: There's construction going on at the moment, so the pond is closed to swimmers for 2013. But if you plan to come back this time next year, you should definitely put this on the to-do list.]
Atop the man-made island called the Ijburg is a jumpin' and jivin' beach scene. Blijburg beach is a place of music, festivals, entertainment, and events close to Amsterdam Central Station. Take a dip in the Ij river, lounge on the beach, hang out at the Gilligan's Island-esque cafe.
Amsterdam's east side is home to the Diemerpark, an outdoor park that also boasts a beach
Westerpark, over in the Westergasfabriek, is a great place for summer barbecues and comes complete with a children's paddling pool.
Last, but certainly not least, is the recreation park Het Twiske with no fewer than 10 designated swimming areas.
There are also numerous sports complexes with indoor and outdoor swimming facilities like the Floraparkbad, the De Mirandabad, Het Marnix, the Zuiderbad, and Optisport Sloterparkbad.
Come on in! The water's fine!
© 2013, Amsterdam City Tours Blog. All rights reserved. On republishing any part of this post, you must provide a link back to this original post