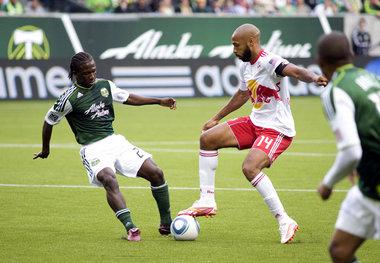 Well, no one can say that Henry is not taking the MLS seriously. In a fiercely competitive and entertaining game, Henry was red carded late for forcefully tapping the head of a Portland Timbers player. I personally did not think that it was a big deal but I guess you can make the argument that he should see red for the offense. The 3-3 draw had absolutely everything a soccer fan could want. There was a penalty miss, an own goal, and a hand ball in stoppage time that gifted New York the point. The Portland Timbers crowd is the best in the league and they really make it feel like a big European atmosphere.



-----------------------------------------------------------------------
I am not going to sit here and act like I know anything about a bunch of 16 year olds. I happened to see that they were playing on ESPN U on Sunday and decided to check them out. The first thing that I noticed once the game started was that they are all technically gifted. I was impressed with the amount of ball skills and trickery that US possessed at such a young age. They dominated the game from start to finish and had two magnificent goals that would impress any Footie enthusiast.