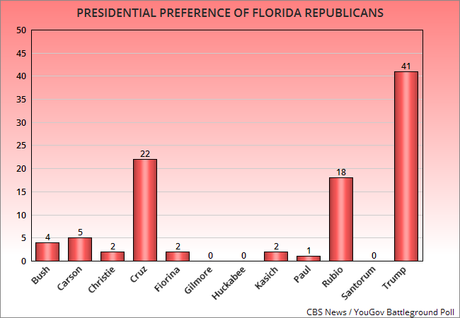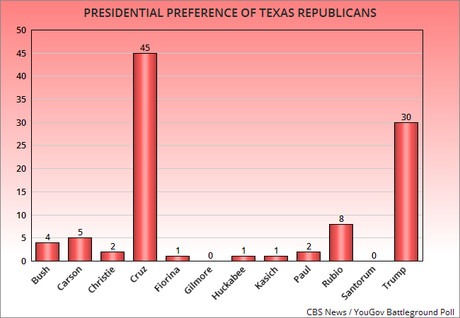 If you had any doubt that Jeb Bush was no longer a viable candidate for the Republican presidential nomination, these two polls should help alleviate that doubt.
They are the newest CBS News / YouGov Battleground Polls of Florida and Texas Republican presidential preferences. In Florida, 988 likely GOP voters were queried between January 18th and 21st, with a margin of error of 4.6 points. In Texas, 984 likely GOP voters were queried in that same time frame, with a 4.4 point margin of error.
These are the two states that Jeb Bush should be doing very well in, if he is to be a viable candidate. He was the governor of Florida, and is a resident of that state. His brother was the governor of Texas and his son is the current Land Commissioner, and his parents are residents of that state. With such strong ties to both of these states, he should at least be a contender in both -- but he is not.
The best he does in both Florida and Texas is a fifth place finish, with a rather pathetic 4% support in both. That's not just a poor showing. It's a death sentence for his candidacy. The only question now is how long it will take him to realize this (and drop out of the race).