Most women have the impression that the only sexy swimsuit style is the bikini. They've been ingrained by magazines to think that if they want to look hot they need a bikini. But let's face it ladies, showing more skin isn't the only way to look seductively sexy in a bathing suit. Sometimes leaving something to the imagination can look even more flattering than bearing it all in a bikini. When you pick the right one, a one piece swimsuit or a maillot can turn heads and make your look hotter than the sand at the beach. There are several one piece swimsuit designs styles and features to search for when you shop that will help you look amazingly super sexy.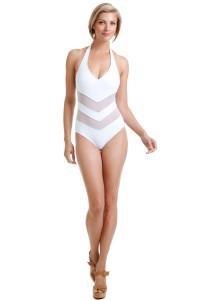 Accentuate your curves in a one piece with a "V" design that slenderizes and compliments your figure
Looking Good in a One Piece is All About Curves (Or At Least the Illusion of Curves)
Curves are sexy. No question about it. So when you wear you wear a one piece suit your goal should be to accentuate your curves. Luckily by design one piece bathing suits hug your curves making them stand out more. If you've got that hourglass figure stick to suits without patterns.
Of course not all women are blessed with seductive curves like Sofia Vergara. One piece suits can still be perfect for you! If you've got a more boyish figure go with a monokini with curved cutout sides. The cutout sides work amazingly at giving the illusion of having more pronounced curvy figure.  For those women with a more round midsection don't worry, look for Mitered bathing suits. These are one piece suits with stripes sewn into a "V" design that slenderizes and compliments your figure by tricking the eye.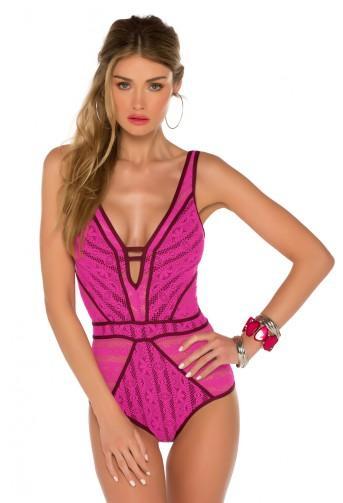 If you're going for that super sexy one-piece look you'll need to show some skin
Show Some Skin
There are a number of ways for a one piece bathing suit can be designed to give optimum skin exposure and yet still leave that seductive something to the imagination. Plunging necklines for example are great for showing off some cleavage. They also serve a duel purpose drawing the eye away from the often troubling tummy area.
You could go with a Brazilian cut for the bottom but they can look kind of trashy. Instead go with a scoop Bottom.  These maillot bottoms are designed to have a scooped waistline and a slightly higher leg line.  This type of swimwear bottom accentuates your curves (remember it's all about the curves) while still giving your tush moderate coverage.
Some one piece maillots have certain cut out areas or keyholes on the back or cleavage that help break up the straight line and accentuate your feminine curves.
Cover Your Flaws
Many women deal with stretch marks or surgical scars. And think they can't look sexy because of them. But that's what's so great about a one piece; just cover them up! If you think your bust is too small go with a swim piece with flounce on the chest. It gives the impression of having larger breasts. Does your tummy stick out? Try a control top that is specially designed to smooth your stomach and side curves.
Stand out with bright colors and bold designs
Sexiness Stands Out, So be a Standout!
Black swimsuits are sexy. No question about it. But if every woman is wearing a black bathing suit, going bold with bright colors will help you get noticed. Reds are exciting and fiery, try a sizzling hot red bathing suit to really bring out your sex appeal. Rich deep purples can also have the same slimming affect as black.
If you want to really look exhilarating go for swimsuits with chic bold patterns like slashes and swirls. These bold designs can bring out your wild side. You can even differentiate yourself with asymmetrical or unique straps.
When it Comes to Looking Hot in a Swimsuit Confidence is Key
If you don't think you look sexy in a one piece swimsuit, why would anyone else? Even if you're not the sexiest woman on the beach that doesn't mean you don't look sexy yourself. Don't worry about other women focus on yourself. Psyche yourself up by telling yourself how good you look.
Despite what many women think, with these tips there's no reason you can't look incredibly hot and sexy in a one piece. So the next time you're shopping for sexy womens swimwear why just go for a bikini when you can look even more ravishing in a one piece bathing suit.