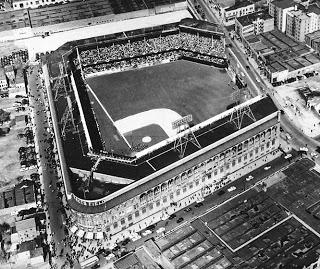 Last Monday I did my first background acting role of 2013 in Brooklyn, up at the Brooklyn Museum in Park Slope. As I was preparing for it, I realized that it was just a few blocks from a very iconic part of Brooklyn that I had never been to before.
The site that once stood a magnificent ballpark: Ebbets Field.
I've lived in Brooklyn my whole life and was never there. I grew up in a family that had roots in the ballpark. My parents, my grandparents, aunts, and uncles all went to Ebbets Field. Over the years, I have heard stories about the legends that played there. My grandfather told me about going there as a kid in the 1920s. My dad's favorite player was Gil Hodges. My mother once told me about going to Ebbets Field on her birthday, the same night they honored her favorite player, Pee Wee Reese, with a birthday cake because it was also his birthday, too.
Ebbets Field disappeared forever two years before I was born. Brooklyn has never recovered from, or gotten over, the loss of the beloved Dodgers. Brooklyn is now the home of the rookie league team, the Cyclones, the Mets' farm team that plays in Coney Island. They do a wonderful job remembering Brooklyn's baseball past. The name of Walter O'Malley will be cursed forever in the borough, and my dad will never talk about him without such colorful words as "that sonofabitch" coming from him.
I'm sorry I never got the chance to experience what Ebbets Field was like. (Even had the Dodgers stayed and built a new stadium in Brooklyn, Ebbets Field probably still would have long gone by the time my baseball fandom began.) I remember in 1986 on the first time I went to Fenway Park, I called my dad up from Boston after the game and told him about the night I spent there, and one of the things I said to him was "Now I have some idea what it was like to see a game at Ebbets Field."
Over the years, I never went to see where Ebbets Field was. It's not in the greatest of neighborhoods, but that didn't really keep me away. My dad hasn't been back there since the Dodgers left. I pass through the Prospect Park subway station on the train all the time, and every once in while I would think that Ebbets Field was just a short walk from the station and I should check out where the park was someday. But I would never seem to get around to do it.
Then finally last Monday, I did it. After the acting gig was over, I walked down Washington Avenue to Sullivan Place, turned left, and a few blocks later, there was the Ebbets Field Apartments. I couldn't resist putting on "There Used To Be a Ballpark" by Frank Sinatra on my iPod as I reached the complex.
All sorts of thoughts ran through my head as I walked down Sullivan Place. I could picture thousands of people walking from the subway station on a sunny July afternoon taking in a game about 60 years ago, and among them my mother or father.
The apartment complex is about 25 stories tall, and it was one of the tallest apartments when it was first built in 1962. A fire lieutenant died in a fire there five years ago. From the outside, there is little to remember the Dodgers there by, except for a sign that says "Ebbets Field" in the middle of the complex.
I walked around the entire complex, and felt so much sadness as I did. I have always been sympathetic to all those Brooklyn Dodgers fans I've known, and I can't imagine what it was like to see their team taken away so cruelly and heartlessly, and to see them win a title on the West Coast just two years later while their beloved ballpark stood empty and awaiting the wrecker's ball. Why did it have to happen?
Across McKeever Place there is a school named for Jackie Robinson, but there is little else to remember that this was the site of some of MLB's most famous moments. I walked back to the subway station at Prospect Park and looked back on the apartments. I can understand why many Dodgers fans don't come back to this site. Now I can tell people I have been by it. But I don't think I'll go there again.