by Conroy
It should hardly surprise that a blog writer would love language and words, but you know what subset of this topic really interests me? Terminology, or the system of terms that belong to a particular subject. Let me give you an example.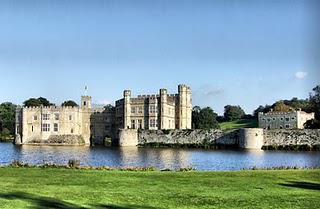 Leeds Castle - not so simple as it looks
Recently I was flipping through the channels on my TV and came across a show about castles. I don't know much about castles, I've visited a few during vacations in Ireland and England, I've seen a bunch in movies, and they're an iconic part of
medieval history
, but still I don't know all that much. Nor, to be completely frank, am I all that interested. I always found the castles I visited to be cold and dark. Not very pleasant places to spend time, let alone live. Nevertheless, the show drew me in. Why? Because it featured a description of all the parts and features in classic castle design supported by real world examples. I love this sort of thing. Sure, most of us know about the
moat
built around some castles, but did you know that the mound that a castle was frequently built on is called a
motte
? Or that the open courtyard area is known as a
bailey
? You might know about
dungeons
, but did you know the underground dungeon reached by trap door is known as
oubliette
(or less elegantly a starvation hole)? How about some other castles features like the
squint
,
narthex
, and
finial
?
I bring this up because I think there's a certain joy to being able to use the exact right word to describe an object, idea, or concept. Sure I could write that castles often included an enclosed passage between the main entrance and the nave of a church, but isn't it more interesting and informative to note that this passage is called a narthex?
I'm sure most people use specialized terminology everyday in their work and other activities. Think about some of the terminology associated with your occupation. Using the right word is often essential to effective communication. Using the wrong word can lead to confusion and mis-communication. In addition, using specialized terminology demonstrates a familiarity and understanding of a subject that often needs to be expressed for reasons that go beyond simple necessity. You may not understand all of the jargon your doctor is saying to you ("myocardial infarction" instead of "heart attack"), but you get a certain confidence that at least he knows his trade.
[At the same time, specialized terminology and jargon can be intimidating to a layperson. In my experience you should avoid jargon if possible and be clear in explaining terminology to someone unfamiliar with the subject and/or details.]
I like English because as a language it is so word friendly, including a vocabulary of
more than a million by some counts
. And English speakers have no reticence in borrowing terms from other languages. For instance, the exact right word is the
mot juste
, a term English took from French. Well I'll strive to use the mot juste in my writing. If I ever have to write about castles, I'll be off to a good start.
---
To give another example of the terminology associated with even seemingly simple systems, consider just a sampling of the terms associated with basketball (timely because the NCAA Tournament began today):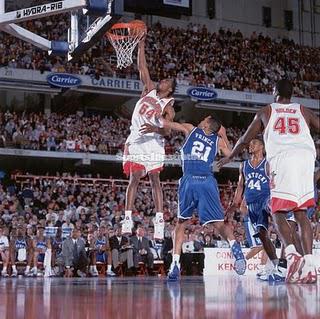 shot clock, air ball, three-pointer, alley-oop, assist, backboard, backcourt, ball fake, screen, bank shot, baseline, pivot foot, bench, shot, backdoor cut, rebound, brick, center, forward, guard, dribble, dunk, fast break, field goal, foul, free throw, halftime, jump shot, layup, over-and-back, front court, pass, run, swingman, technical foul, block, three-point play, travel, turnover, offense, defense, foul line, mid-court, sixth man, referee, sideline, paint, key, flagrant foul
As a casual fan you can overlook the myriad terms associated with the sport, but each term has an exact meaning in this context.
Perhaps you can take a few minutes to think of the wide terminology used in other everyday activities and items (cooking, your car, exercise, etc.). What's the difference between a car's
fender
and
quarter-panel
? In food preparation, how does a
scraper
differ from a
spatula
?
.