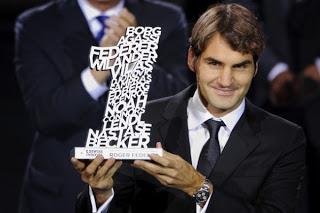 In Part 1, I discussed a quantitative approach to determining the greatest tennis player of all time and counted down players 18 through 11. Here in Part 2 I want to complete the countdown from 10 through 1, the GOAT. But first, a brief recap of how the rankings were determined.
Players were awarded points for their Open Era accomplishments, focusing on time spent ranked number 1, grand slam tournament success, and overall match wins. Players were awarded bonus points for notable achievements like winning multiple grand slams in a single season or accomplishing the career grand slam. The specific formula is discussed in detail in Part 1.
Here's how the players were ranked 18 through 11:

1


18. Jim Courier – 211 total points,
17. Lleyton Hewitt – 211,
16. John Newcombe – 237,
15. Ilie Nastase – 287,
14. Mats Wilander – 288,
13. Novak Djokovic – 295,
12. Boris Becker – 306,
11. Guillermo Vilas – 316.
On to the rest of the list.
The Greatest Players of All Time (Numbers 10 through 1)
10. Stefan Edberg(1983-96)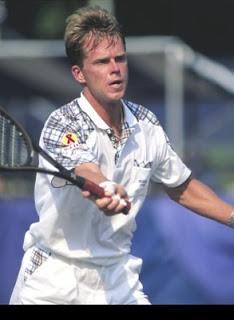 When I think of Stefan Edberg I picture a suave, blond-haired Swede wearing a sweater vest on court and putting away an easy volley as cool as a cucumber, no sweat on his brow. This isn't right of course because what Edberg really was was an assassin; perhaps the last of the great pure serve-and-volleyers,

2

those players who put relentless pressure on their opponents with their net rushing and precise volleys. (It also wasn't true that Edberg was a super cool Nordic sort, my memory of pretentious sweater vests may be entirely wrong and his penchant for ugly shirts and un-hiply tucking his shirt into his shorts is apparent, see the picture on the right for an example.) Edberg's career closely shadowed his flashier rival Boris Becker, but by almost any measure, Edberg was more successful. He turned out to be the last in the lineage of dominant Swedish players that included Bjorn Borg and Mats Wilander before him.
Total Points: 327
Weeks Ranked Number 1: 72
Year-End Number 1: 2 (1990-91)
Grand Slams: 6 titles / 5 finals
Career Titles (all): 42
Career Wins (PCT): 806 (0.749)
Other Noteworthy Achievements: Edberg won the Australian Open, Wimbledon, and U.S. Open two times apiece. He made one French Open final in 1989 and lost a famous match to 17-year-old Michael Chang in five sets (after leading two sets to one). He was that close to being only the fifth man in the Open Era (and second at that time) to win the career grand slam.
Iconic Moment: 1992 U.S. Open Final. Edberg's last grand slam victory came at the expense of a young Pete Sampras at the 1992 U.S. Open. I remember watching that match (when I was first getting into the sport) and being impressed by the tenacity and confidence that Edberg used to subdue his younger and more talented opponent. He came back to win the last three sets after dropping the first, and it seemed that by the end he had broken the spirit of the American. Edberg would remain in the top 10 for a couple of more years, but never again win a big tournament.
9. Rod Laver(1962-79)
Rod Laver is the epitome of a player whose accomplishments are obscured by playing before the Open Era. As an amateur in 1962 he won the calendar year grand slam. Having nothing left to prove among amateurs, he turned pro and didn't compete in another grand slam until the French Open in 1968 (where he lost the final to Ken Rosewall). Then he promptly won the next five grand slams, including all four in 1969 – his second calendar year grand slam and the only one of the Open Era. All told he won 11 grand slams (6 as an amateur). How many would he have won had he played in them in the five seasons between 1963 and '67, eight, ten, twelve more? In just the Open Era, less than half his career and only a fraction of his peak, he still gets enough points to rank ninth on this list. We can never know, but if the Open Era had started five years sooner, or Rod Laver come along five years later, he could very well be regarded by everyone as the clear greatest player of all time.
Total Points: 351
Weeks Ranked Number 1: 0
Year-End Number 1: 3 (1968-70)
Grand Slams: 5 titles / 1 final
Career Titles (all): 42
Career Wins (PCT): 392 (0.798)
Other Noteworthy Achievements: All told Rod Laver won 200 tournaments over the full length of his career. These are split between his amateur and professional days, and some are not officially counted as tour wins, but it's the most tournament wins in history.
Iconic Moment: 1969 U.S. Open Final. Laver rolled over countryman Tony Roche (the Australians really did dominate the sport in the 50s and 60s) winning the last three sets easily after dropping a long first set. In doing so he accomplished what Jimmy Connors, Bjorn Borg, John McEnroe, Pete Sampras, Roger Federer, Rafael Nadal, and Novak Djokovic never could, win four consecutive grand slams (let alone win them all in the same year).
8. Andre Agassi(1986-2006)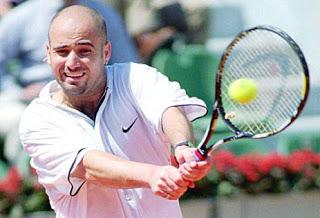 If Rod Laver is the epitome of a player who lost out by turning professional, then Andre Agassi is the epitome of a player who lost out by not being professional enough. Anybody who saw Agassi play knows he was one of the purest ball-strikers ever. He could stand right up on the baseline, take the ball on the rise, hit clean and very hard, all the while running his opponents into the ground. When he focused on his game and his talent, which was spotty, especially during the mid-90s, he was the best player in the world. He rededicated himself to tennis in his late 20s and played to a high level well into his mid-30s until injury forced him to retire after the 2006 U.S. Open. He remains the oldest player ever to be ranked number 1 (33 years old in 2003). His full career is undeniably impressive, but we're left to wonder how much greater it could have been had he been as dedicated to his talent as, say, his rival Sampras.
Total Points: 482
Weeks Ranked Number 1: 101
Year-End Number 1: 1 (1999)
Grand Slams: 8 titles / 7 finals
Career Titles (all): 60
Career Wins (PCT): 870 (0.760)
Other Noteworthy Achievements: With his victory in the 1999 French Open, Agassi not only achieved the career grand slam, but also the career "golden slam" so named because he had also won the 1996 Olympics singles tournament. At that time the only other player to have accomplished the feat was his future wife Steffi Graf (who won a calendar year golden slam – all four grand slams and the Olympic gold – in 1988). Rafael Nadal joined this club after his U.S. Open victory in 2010.
Iconic Moment: 1999 French Open Final. Agassi's rededication to tennis finally came to fruition when he won the 1999 French Open. He had lost the 1990 and 1991 finals to journeyman Andres Gomez and lower ranked American Jim Courier, respectively. The first, he later revealed in his autobiography, because he was afraid his weave was going to fall off during the match (that should tell you a lot about the style-over-substance flakiness of the young Agassi). Back then Agassi was seen as the next big thing. By 1999 he was seen as a has-been. But he surprised everyone and won the tournament (although he had to come from two sets down in the final against Andrei Medvedev), became the first man since Rod Laver to achieve a career grand slam, and reignited his career. He would finish 1999 ranked number 1, win four more majors, and become a paragon of fitness and focus.
7. Bjorn Borg(1973-83)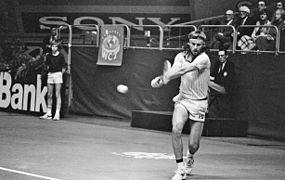 Tennis has always been a sport that skews young. Players turn professional while still teenagers and peak in the early and mid-20s.

3

And this seems especially true for the greatest players, consider that 10 of the 18 players on this list won their first grand slam before their 21stbirthday. Bjorn Borg may have been the most precocious of all these phenoms as he won 16 titles before he turned 20 (Rafael Nadal equaled this feat 30 years later). Borg effectively retired in early 1982 (he played a couple more tournaments in the following couple of years) at the young age of 25. It was a shock to the tennis world, an icon retiring in his prime. It would be like Novak Djokovic or Rafael Nadal retiring now.

4

Despite putting down the racket so young, Borg still won 11 grand slams and 63 career titles (more than Andre Agassi amassed in 20 years), and he retired with the best career winning percentage of any player 0.827 (also currently matched by Nadal, the parallels between these two go on and on, see more on this below). Borg was also known for his cool demeanor, and I don't just mean relaxed and composed, I mean really cool, his was an idol, a tennis rock star. Tennis lost a lot when he walked away from the sport.
Total Points: 493
Weeks Ranked Number 1: 109
Year-End Number 1: 2 (1979-80)
Grand Slams: 11 titles / 5 finals
Career Titles (all): 63
Career Wins (PCT): 608 (0.827)
Other Noteworthy Achievements: Borg won both the French Open and Wimbledon for three consecutive years from 1978 through 1980. And this is in an era when clay courts and grass courts offered wildly different conditions and favored different playing styles. The clay was super slow and the grass was super slick (and at the time grass courts were notoriously uneven and unpredictable). This feat wasn't duplicated until 2008, by you guessed it, Rafael Nadal. Then it was done in 2009 by Roger Federer, and then again by Nadal in 2010.
Iconic Moment: 1980 Wimbledon Final. The 1980 Wimbledon Final has long been lauded as one of, if not the greatest match ever played. Upstart John McEnroe battled four-time defending champion Borg for five sets, including a classic, dramatic 34 point fourth set tiebreak that McEnroe won. But Borg the cool-headed champion wouldn't give up the title. He won virtually every point on serve in the fifth set and finally subdued a tiring McEnroe 8-6. It was the peak of his tennis career and the last time he would beat McEnroe in a grand slam final.
6. Rafael Nadal(2002-current)
Rafael Nadal is like an amped up 21st century version of Borg. Like Borg he's impossibly fit and fast, he plays impenetrable defense, he prowls and pounces from deep behind the baseline. Like Borg he dominates on slow red clay but has adapted to quicker, slicker grass. Nadal was also a teenage phenom, winning 11 titles in 2005, the year he turned 19, including his first grand slam at the French Open. But if anything Nadal is even better, he's a bit stronger and a bit faster and a bit fitter. He's even more dominant on clay. He's adapted his game even more for fast surfaces winning on hard courts and grass. He hits the ball harder and with heavier topspin. He's the essence of embodied will. All of this adds up to a fearsome and remarkably effective tennis player. There was talk a couple of years ago of Nadal one day surpassing the accomplishments of his great rival Roger Federer, but the rise of Novak Djokovic and Nadal's lingering, indeed worsening knee troubles have cast a large shadow over his future prospects. He could continue to win for many more years and climb higher on these rankings, or the best parts of his career could be behind him. Like Borg before him, Nadal could be facing an early retirement (albeit his would be forced and not chosen), but again tennis would be the worse for his absence.
Total Points: 505
Weeks Ranked Number 1: 102
Year-End Number 1: 2 (2008, 2010)
Grand Slams: 11 titles / 5 finals
Career Titles (all): 50
Career Wins (PCT): 583 (0.827)
Other Noteworthy Achievements: Nadal captured the career grand slam at the young age of just 24 when he won the U.S. Open in 2010, becoming the youngest professional ever to accomplish the feat (Laver was the same age but an amateur when he won his first grand slam in 1962).
Iconic Moment: 2008 Wimbledon Final. The Nadal-Borg parallels continue with the 2008 Wimbledon Final, but reversed. In 2008 Nadal was trying to beat five time defending champion Federer just like John McEnroe was trying to beat five time defending champion Borg in the 1981 final. Borg had fought off a spirited challenge from McEnroe in the 1980 final just as Federer had fought off a vigorous challenge from Nadal in 2007 (more on this match below). And in 2008, just like McEnroe in 1981, Nadal finally triumphed and with it took over the title of the world's top player. The 2008 Wimbledon Final is rightly remembered as perhaps the greatest match ever played, certainly the best since Borg beat McEnroe on the same court in 1980, and Nadal won. In a match that lasted five hours, included two long rain delays, and ended in the dark, Nadal overcame every obstacle thrown at him that day. Federer's early and typically brilliant play, lousy weather, a spirited (and for another man disheartening) Federer comeback, and constantly having to play from behind in the long fifth set. Nadal's victory was years in the making and no matter his future triumphs he will never have a better day.
5. John McEnroe (1978-92)
John McEnroe was the most successful serve and volleyer of the Open Era. His style was the polar opposite of his rivals Borg, Ivan Lendl, and Jimmy Connors, all dedicated baseliners. And for this reason, his stark contrast to the other top men, he was often described as a beautiful and brilliant player, someone who saw the tennis court differently and made shots no one would dream of. Many of McEnroe's ardent supporters will howl that he comes in lower on this list than some of his rivals. And they might be right, and this goes back to a point that I made in Part 1, that these rankings only measure results, they don't capture elements of the game peripheral to results, like style and originality. One thing that is worth pointing out about McEnroe is that like a star the shines brighter, his star also faded quicker. He was a dominant champion from 1981 through 1984, but after that he slipped. At 26 his best days were behind him. Maybe it was burnout, or the racket revolution that changed the sport in the mid-80s, but McEnroe had the shortest peak period, five or six years, of any of the all time greats.
Total Points: 529
Weeks Ranked Number 1: 170
Year-End Number 1: 4 (1981-84)
Grand Slams: 7 titles / 4 finals
Career Titles (all): 77
Career Wins (PCT): 875 (0.816)
Other Noteworthy Achievements: John McEnroe's 1984 season was one of the finest any man has ever had, he won his first 42 matches, 82 of 85 matches overall, 13 titles, two grand slams (Wimbledon and the U.S. Open), and was one set away from winning the French Open (by far the closest he ever got to that title).
Iconic Moment: 1981 Wimbledon Final. McEnroe lost the famous 1980 Wimbledon Final, but quickly avenged that defeat winning the 1980 U.S. Open – over Borg – a couple of months later. By 1981 Wimbledon it seemed that his time to pass Borg had arrived. Borg won the first set, but McEnroe took the next three. With the win he took over the top ranking from Borg and never looked back. He would beat Borg in the 1981 U.S. Open making it three straight grand slam wins over the Swede.
4. Pete Sampras(1988-2002)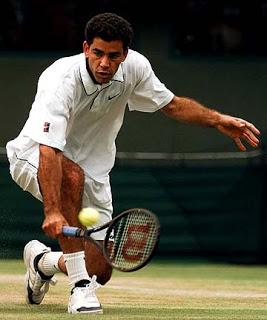 If John McEnroe's play was considered inventive and unique, Pete Sampras' was considered (by some) overwhelming and final. Final because his ferocious serve seemed to end points before they were even started. Overwhelming because his forehand, volleys, serve, return, his whole game, was designed breakdown his opponents. Every once in a while a rival, a Pat Rafter or Richard Krajicek, or more often Andre Agassi, would beat Pete at a big moment, but not often. He won a then record 14 grand slam titles against only four finals losses, easily the best Open Era winning percentage for any man who has appeared in at least 10 grand slam finals. Pete also finished first in the rankings for a record six years (consecutive from 1993 through 1998). It seems like his reputation has dimmed a bit in the decade since his retirement, which is strange because at his peak in the mid-90s I felt that no one stood a chance against him. It remains true that if you could pick one player to play and win one match for you, you'd be hard pressed to pass over Sampras.
Total Points: 651
Weeks Ranked Number 1: 286
Year-End Number 1: 6 (1993-98)
Grand Slams: 14 titles / 4 finals
Career Titles (all): 64
Career Wins (PCT): 762 (0.774)
Other Noteworthy Achievements: Sampras played in and won seven Wimbledon finals, equaled in the modern era by only Roger Federer, but he actually appeared in even more U.S. Open finals, eight, winning five, including his first grand slam in 1990 (age 19) and last in 2002 (age 31).
Iconic Moment: 1993 Wimbledon Final. Pete Sampras and number 1 are so synonymous that it seems like he was always at the top of the rankings. Kind of like how a great song seems like it's always existed after you've heard it only a few times. But heading into Wimbledon in 1993 Sampras was still just a one-time grand slam champion and had only recently risen to the top rankings (for the first time). It was time to step up and become the true top player. And step up he did, beating defending champion Agassi in the quarterfinals, three-time champion Boris Becker in the semi-finals, and former number 1 Jim Courier for the title. After the win Sampras never looked back leaving the rest of the tour far in his wake.
3. Ivan Lendl(1978-94)
David Foster Wallace joked that watching Ivan Lendl play was like watching Triumph of the Will in 3D. What he was getting at was the Lendl's power baseline game was overwhelming and effective and generally unsatisfying for the aesthetically minded. This is perhaps why Lendl, who complemented his game with a dour (some my say blank) demeanor, is probably the least appreciated of the great champions. This is unfortunate because in his own way Lendl was as dominant in the mid-80s as Sampras was in the mid-90s or even Federer in the mid-00s. His style anticipated the baseline play that is common today. He came to dominate rivals like Jimmy Connors, John McEnroe, and Mats Wilander. He was ranked number 1 for the third most weeks in history, won more titles in than any man in the Open Era except for Connors, and reached more grand slam finals than anyone but Roger Federer. Lendl also lost more grand slam finals than anyone (11 of 19), including six of his first seven. Maybe this is another reason that he's underappreciated, more often than not he fell short in the biggest moments.
Total Points: 677
Weeks Ranked Number 1: 270
Year-End Number 1: 4 (1985-87, 1989)
Grand Slams: 8 titles / 11 finals
Career Titles (all): 94
Career Wins (PCT): 1,071 (0.818)
Other Noteworthy Achievements: Lendl owns some obscure and impressive streaks, such as his eight consecutive U.S. Open finals appearances (three wins) from 1982 through 1989 and nine consecutive Masters Gran Prix tournaments (year-end tournament) finals from 1980 through 1988.
Iconic Moment: 1984 French Open Final. Lendl carried the rather inglorious distinction of losing his first four grand slam finals into the 1984 French Open Final. He faced John McEnroe who was riding his season-opening 42 match winning streak. Through two sets it looked like Lendl was headed to five straight grand slam finals loses and McEnroe to 43 straight wins. McEnroe won them routinely 6-3, 6-2. Lendl took the third set 6-4, but trailed McEnroe 2-4 in the fourth. McEnroe was just two games away from victory. It didn't happen, McEnroe's level dropped and Lendl found his game. He broke back and eventually took the set 7-5. The fifth set was close, but Lendl broke McEnroe at 6-5 to take his first title. 1984 was McEnroe's year, but the rest of the decade pretty much belonged to Lendl. He would win seven more grand slams through 1990.
2. Jimmy Connors(1972-96)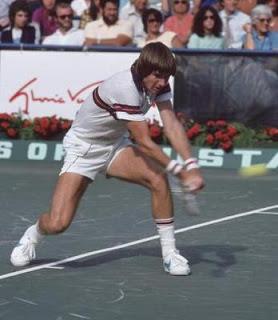 Jimmy Connors places so high on this ranking because he was so good for so long. Connors was ranked in the top 10 for 16 consecutive years between 1973 and 1988. He won over 1,200 matches (and won 82% of his matches). When you spend time studying the greatest players you realize that trends recur and styles of play are carried along from one generation to another. Connors was known in his day as the toughest competitor on tour, refusing to back down or concede even a single point. You can see this fighting spirit in many champions that followed, Michael Chang, Lleyton Hewitt, and most notably Rafael Nadal. Perhaps Connors' most outstanding tennis skill was his phenomenal return of serve. He carried the title of the greatest returner, which eventually passed to Andre Agassi, and now (by general consensus) his owned by Novak Djokovic. And of course Connors' long career was followed by similar longevity by Agassi and the current career of Roger Federer, which shows no signs of ending any time soon. The careers of these players overlapped and you can trace an unbroken line from Connors' debut in 1972 through Federer today, a stretch of 40 years in just three players. All these points noted, many who watched them compete considered Jimmy Connors to be inferior to both his younger rivals Borg and McEnroe. This may have been true, those two may have been more talented, but a close examination of the record reveals that Connors' achievements are as good as anyone, with the exception of the number 1 player on these rankings.
Total Points: 734
Weeks Ranked Number 1: 268
Year-End Number 1: 5 (1974-78)
Grand Slams: 8 titles / 7 finals
Career Titles (all): 109
Career Wins (PCT): 1,241 (0.818)
Other Noteworthy Achievements: Connors owns the Open Era record for the most singles titles (109) and match wins (1,241), won over a career that spanned 25 seasons. I feel confident in writing that these records will never be surpassed.
Iconic Moment: 1982 Wimbledon Final. Jimmy Connors dominated the mid-70s, but with the rise of first Bjorn Borg and later John McEnroe, it seemed that Connors' time had passed. Heading into the 1982 Wimbledon Final Connors hadn't won a grand slam since the U.S. Open back in 1978. He faced the defending champion and heavy favorite John McEnroe, who had advanced to the final losing only one set. Connors was down two sets to one, but won the fourth set in a tiebreak and the fifth set 6-4. The win was improbable, coming eight years after his only previous Wimbledon title, and propelled him back (later in the summer) to the number 1 ranking for the first time in over three years.
1. Roger Federer(1998-current)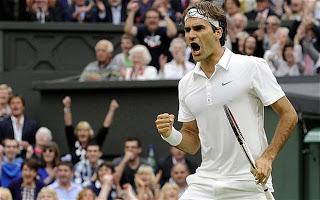 What is there to say about Roger Federer? He's by far the most successful tennis player of the Open Era: most grand slams titles (17); most weeks ranked number 1 (302); a career grand slam; three separate years winning three grand slams, and two others winning two; 10 consecutive grand slam finals reached, 23 consecutive grand slam semi-finals reached, 34 consecutive grand slam quarterfinals reached (and counting); the best four year stretch in tennis history (2004-07), to name only the most obvious measures. Much of the general sporting attention given to tennis is focused on Federer, and for good reason, he's had a profound effect on the entire sport. And he continues to have an outsized effect even though his best years are in the past. Consider, in era when all his rivals are a full tennis generation younger (Nadal, Djokovic, Andy Murray, Juan Martin Del Potro), he continues to perform at the top of the game. Since he lost his stranglehold on the top of the game, when Nadal beat him in the 2008 Wimbledon Final, he's won five grand slams (just one less than Nadal and one more than Djokovic), finished 2009 ranked number 1, improbably regained the number 1 ranking this past summer, and won dozens of titles. He's stayed at the top for all the reasons that fans watch tennis, because of his skill, because of the dizzying repertoire of shots, because he still thrives on competition, because he loves the game of tennis. And it's for these reasons that tennis fans adore him and why he'll remain the most popular and appreciated player on tour for however long he continues to play. These sentences may sound a bit like hero worship, and maybe they are, but I'm a tennis lover and how can I not venerate a man who made watching tennis so much fun?
Total Points: 849
Weeks Ranked Number 1: 302
Year-End Number 1: 5 (2004-07, 2009)
Grand Slams: 17 titles / 7 finals
Career Titles (all): 76
Career Wins (PCT): 878 (0.816)
Other Noteworthy Achievements: Federer boasts too many achievements to list, but one that's worth noting and isn't often mentioned is his remarkable 75-10 record (0.882 winning percentage) against top 10 ranked opponents from late 2003 through 2007. That's dominance.
Iconic Moment: 2007 Wimbledon Final. Given all of Roger's great achievements – and when it comes to notable achievements, no man has more than Roger Federer – it seems restrictive to list only one iconic moment in his career, but that's my problem because I chose this format. Having to pick one, I'll go with the 2007 Wimbledon Final when he defeated Rafael Nadal in a long, hard-fought five set match. Certainly Federer has had more noteworthy wins, like his milestone 2009 French Open and Wimbledon triumphs, or even his grand slam breakthrough at Wimbledon in 2003, but the 2007 final displayed so many of the facets that make Roger Federer the preeminent champion that he is. One that day Nadal played a great match, a reality that must have been as clear to Federer as the sunny July sky over Centre Court; he was in for a battle. Federer had to use all of his skill, and fighting spirit, and tennis guile to eke out the first and third sets in tie-breaks. Nadal won the second and fourth sets much more easily. As the match moved into the fifth set the momentum seemed to be behind Nadal and a feeling crept over the encounter: this just might be a changing of the guard. Early in the set Nadal pushed Federer to the brink, earning break points in two of Federer's service games. Each time Federer hammered an unreturnable serve or made a clutch winning groundstroke. He toughed his way through the games and kept his nose out in front. Then, leading 3-2 with Nadal serving, the Federer brilliance arrived. He broke Nadal with a series of breathtaking points – Federer Moments as David Foster Wallace would say – heavy winning forehands, sharp angles, changes in pace and direction, and hitting lines. He won the last three games with shot-making and tactics and surprise. He had staved off the challenge

5

and in the process showed that he is at the core a fighter and champion (and not just a tennis magician).
And this is a good place to close this list of the greatest of all time. I wrote earlier that we measure tennis players by their skill, their will, and their minds (as it relates to playing tennis, of course). Federer displayed them all at the 2007 Wimbledon Final, but that's what you'd expect from the best in a high pressure, high intensity moment. We watch sports to be entertained, and in the hope that occasionally we'll actually be captivated. There will probably never be a definitive list of the greatest tennis players of all time, but the men on this list have given us so many – and all the best – of the entertaining, memorable, captivating, and transcendent moments in their sport. That seems as good a definition of greatness as we need for this context and a good enough reason to include each man here.
---
The Greatest Tennis Players of All Time (Open Era) – Current Rankings (active players in bold):
1. Roger Federer - 849 total points
2. Jimmy Connors - 734
3. Ivan Lendl - 677
4. Pete Sampras - 651
5. John McEnroe - 529
6. Rafael Nadal - 505
7. Bjorn Borg - 493
8. Andre Agassi - 482
9. Rod Laver - 351
10. Stefan Edberg - 327
11. Guillermo Vilas - 316
12. Boris Becker - 306
13. Novak Djokovic - 295
14. Mats Wilander - 288
15. Ilie Nastase - 287
16. John Newcombe - 237
17. Lleyton Hewitt - 211
18. Jim Courier - 211
---
NOTES:


1.

If starting the countdown at 18 seems like an arbitrary number to you, you're right, it is. But as noted in Part 1, I decided to only include players who amassed at least 200 points during their careers, and only 18 men have done that during the Open Era.


2.

Fans of Patrick Rafter (and I was one) may disagree, but as good as Rafter was, he wasn't of the class of Edberg. Pete Sampras and other big servers frequently serve-and-volleyed, but that wasn't the core of their game.


3.

This may be changing, for instance the average age of this year's year-end top 10 is 27.


4.

Consider that the later possibility, Rafael Nadal retiring, must have been a real fear to his many fans as his knee injuries kept him off the court for the second half of 2012. They can all breathe easy as he has announced his competitive return for late December.


5.

Temporarily as it turned out. Nadal famously turned the tables on Federer in the unforgettable 2008 Wimbledon Final. See Nadal's "Iconic Moment" above.