Imagine getting on a plane and finding the man sitting next to you is nursing a falcon – not a stuffed one, nor in a cage, but a real live bird resting on his arm. Unlikely if you're travelling in Australia, but apparently a regular occurance in the Gulf where falcons can travel uncaged in the passenger cabin of aircraft, albeit with the restrictions of being hooded and tethered to the seat.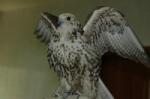 A patient at the Falcon Hospital
It seems a bit incongruous that a bird that can fly up to 300km/h gets a lift in a passenger jet, but it's all part of the fascinating world of falconry, where travelling birds even have their own passports. It's true, I've seen one, stamps and all!
I've been enlightened on the finer points of falcon frequent flyers by the vivacious Dr Margit Muller on a tour of Abu Dahbi's Falcon Hospital. I was unsure what to expect from a visit to this working falcon vet hospital, but it's one of the highlights of my visit to this intriguing city.
Falconry has been part of the local culture since the Bedouins caught wild falcons on their migration from Europe and trained them to catch much needed food like hares and bustards, before releasing them at the end of the season to migrate back to Europe.
The UAE no longer allows trade in wild falcons, so captive bred birds are imported from Europe. As hunting is now banned in the UAE birds and their owners must travel to places like Pakistan and Morocco. Hence the passports and inflight privilages.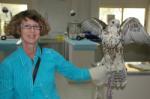 Handling these regal birds is a thrill
Our tour starts with fascinating falcon facts – a 1.3kg bird can catch and carry a 3-5kg bustard and can kill an animal as big as a gazelle – before we enter the surgery to watch an anethetised bird have its beak and claws clipped. We get to hold the magnificent creatures and take a turn as they fly between us, before listening to one crunch the bones of a tasty quail titbit. 
So why a dedicated hospital? Falcons, like any pet, become part of the family and despite their fearsome appearance are quite delicate – they can die within five hours of eating something inappropriate. Hence the staff are on call 24 hours a day to deal with falcon emergencies as well as general maintenance. There's even a boarding facility with a loyal clientele.
But it appears all is not equal in the world of flying falcons. On Etihad Airways falcons are welcome in first and business class as well as economy (well the falcon is the airline's symbol and the national emblem of the UAE) but on Royal Jordanian airlines they are restricted to economy class. (But neither seem to address the issue of falcon poop.)
See Creative Holidays for a stopover package that includes a tour of the Falcon Hospital.