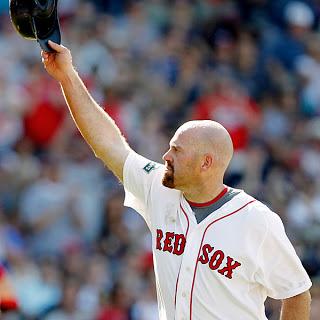 Those wacky Yankees, they can't stay away from former World Champion Red Sox players.
Kevin Youkilis, who will be 34 in March, agreed to a one-year, $12 million deal with New York yesterday. He joins such former Sox champions as Johnny Damon, Alan Embree, Mark Bellhorn, Mike Myers and Derek Lowe who made a pit stop in the Bronx on their way to retirement. I can't say I'm upset with this move, as Youk is clearly on the back-nine of his MLB career, and isn't nearly the player he once was. I was really hoping Youk would have a reunion with Terry Francona in Cleveland, as the Indians even offered a two-year deal.
But that was not meant to be, especially after the Indians signed Mark Reynolds. Listen, I have a lot of respect for Youk, and I understand why he went to New York. They are a contender and the Indians are not. And of course, he is a businessman and it was a good deal for him.
However, not all Yankee fans are exactly jumping for joy at this move. My friend Lisa Swan at Subway Squawkers sure isn't, and she explains why. And she points out the Yankees have now invested a staggering $40 million just at third base for 2013 alone.
It will be interesting to see how Youk is treated by the Fenway Faithful on his return to Boston next season. I'm sure most right-thinking fans understand his decision.
But like me they are disappointed he went to the Bronx.