As you may have heard, there's an eclipse of the sun today. Anyone in North America can see it. Here in New Hampshire, USA, we'll only see a partial eclipse, but it's still exciting, and conditions are near-perfect: a nice clear sunny day.
What's even more important than the eclipse itself? Well, if you're a brand (like Mark Armstrong Illustration, for example), you simply must post something about the eclipse on your blog and all your social media accounts, or else risk looking uncool, unhip, and hopelessly out of touch.

So here's my take, with some help from George Harrison and an obscure Liverpool group called The Beatles. George's two biggest contributions to the Beatles songbook were Something and Here Comes The Sun. I modified the lyrics to the latter, because… here comes The Moon!!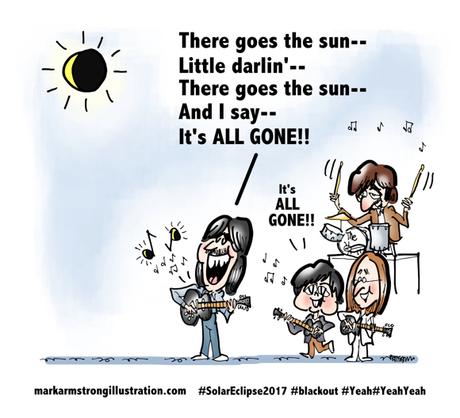 Here's a closeup image of the group, which managed to achieve a degree of fame…