Evyn was born with some serious health issues. I know I have mentioned that many times. I have not mentioned the year that followed his birth.
 During my pregnancy with Evyn, Eli was diagnosed. Soon after Evyn was born sick. During this time a good friend passed away entirely too young, my mother was hospitalized, money issues, job problems and our marriage began to ravel at the seams. Danny and I separated that Summer per my request. I was worn out, alone and pissed off all the time.  I was certain things were simply not salvageable even tho he had moved to a better paying job and was able to be home more. A lawyer had been called and things were set into motion to file for divorce. Again, not something many knew about. Toward the end of that year we were slapped with a law suit. Six months after Danny changed jobs we were sued for the Semi he was leasing to buy and had returned. To make a long story short, we were sued for the maintenance on that truck. Maybe we were responsible for it.......that's not the argument here. The argument is we were already broke financially and broke mentally and this could not have came a worse time. We decided to work on our marriage at this point and try to get through filing a bankruptcy. Not for the correct reasons, clearly.
On Feb 5th 2011 our bankruptcy was final and our debts were wiped clean. Not exactly something I am proud of but it was a new start for us. A way to have the things we needed and a splash of things we wanted. We saw a light at the end of our tunnel.
Feb 7th I sent Danny and Peyton to Hiseville before the roads got to bad and they never made it home........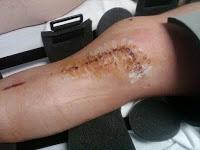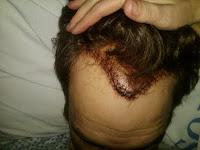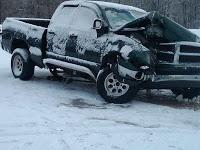 That week we racked up 40K in medical debt not to mention the fact no income came in for 13 weeks following their wreck. We had totaled the one good running vehicle we had, and had absolutely no nest egg. These were the hardest few weeks of our entire life not to mention the fact our marriage was still quit rocky.  It took us that whole year and part of the next to get back to where we were before our baby was born so sick. It took a lot of arguments, tears and broken items.....:) But I am proud to say that things are beautiful for our family now. It's been almost a year since our road has smoothed.  I had to cut people out of my life that were toxic and holding me back from trying 100%. You cannot put forth effort into anything if you have people in your ear telling you your making a mistake. The wreck was two years ago today and made me think how incredibly lucky we are now to have our health, our marriage and four wonderful thriving boys. This blog is for all my friends who seem to be having a tough time right now. Hang in there. Push when you think you cannot push anymore. Talk......talk some more and even more after that. Make time for each other and laugh often. If you work on things for the wrong reasons, don't get discouraged.  Don't let people tell you that things will never work out or be the same because you are not together for the correct reasons. With time, love, patience and determination .........those wrong reasons turn into the right ones.