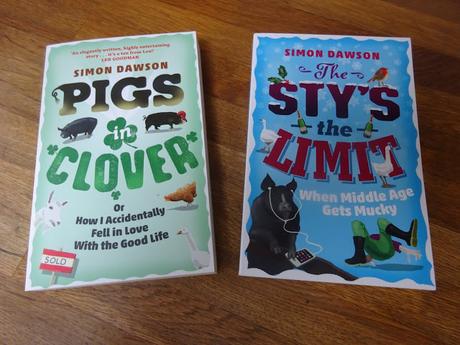 I'm currently reading the last chapter of one of Lovely Hubby's Christmas presents, the book 'Pigs in Clover' by Simon Dawson .  Don't you feel special when someone lets you read their brand new book before they've even peeked inside the cover ... I do.   I'll have to return the favour to him one day if he can prize a brand new book out of my fingers  ;-)
Anyway, this book as well as being very entertaining has made me think a lot.  
I was walking along Llandudno prom with Mavis and Rosy thinking, then I was stood thinking on the six foot width of sand ...  all that was left as the tide was just starting to go out ... while Rosy did her 'I'm doggy Canute and you will retreat from whence you came when I tell you to' baking frenzy at the lapping waves.  Running in and out getting her feet wet and timing it carefully so the rest of her stayed dry .... she's absolutely barking mad that dog!!
Anyway going round in my head was the happy thought that we've done our self sufficiency thing a little bet better than Simon and Debbie did, well if you count animal fatalities, money woes and planning as a criteria for a good go at self sufficiency.   I'm not smug ...  just happy that thanks to our careful planning, learning as we went and more importantly learning before we needed to things have worked out pretty well.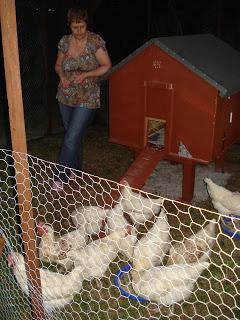 We went on a chicken course before we got our first batch of ten rescue girls so we'd know what to expect, we made sure the house was finished before we picked them up .... it was with hours to spare, although the run as you can see from this photo wasn't quite finished!!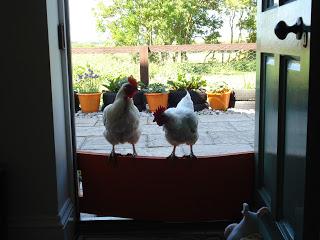 How we possibly thought putting a kneeling mat across the doorway was going to keep them out of the house .....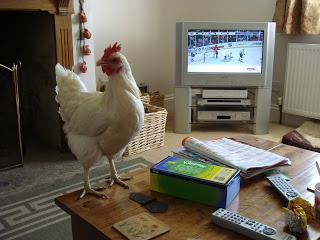 ... I have no idea  :-)
Yes, some things we learnt as we went along, but a week after getting the girls we took ourselves off on another course a more medical based one to learn about chicken health and the rules and regulations of selling eggs to the public.  If there's one thing about Lovely Hubby it's that he likes to do things properly.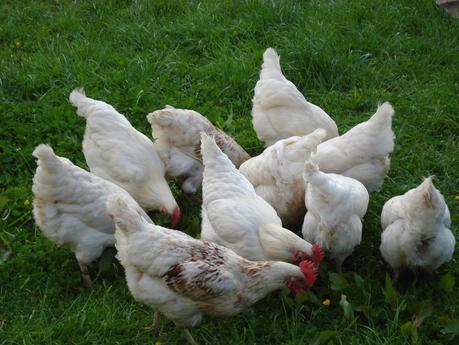 These girls, Cappuccino, Latte, Mother, Milly, Molly, Little Lovely, Big Lovely, Lovely, Jemima and Mona were with us from when we 'rescued' them at 14 months until their deaths, most of them natural, a couple by Mr Fox and one by a Red Kite strike, and taught us so much about chicken keeping, as well as bringing their laughable antics to our lives when we needed them most, and driving our Border Collie, Sophie mad trying to round them up.  At last she had come to a place that needed her unique skills ... that her flock were inside a fence and she was running in huge rings round it had nothing to do with anything!!
Looking back we have learnt so much over the past few years, and reading this book about someone else's struggles, accidents and happy animal moments made me realize this even more.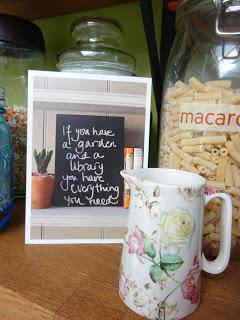 I have both  :-)
Sue xx