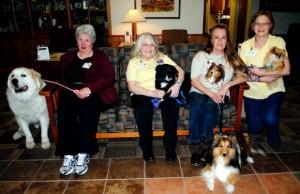 Columbus, OH — On a quiet night at Columbus Community Hospital, a few special guests liven up the atmosphere.
These weren't typical visitors who came to see friends and family, but four-legged surprises that stopped to offer a friendly tail wag.
Helen Roth's face lit up when she spotted Duke, a 150-pound Great Pyrenees.
The dog, led by owner Jean Sobota, calmly approached Roth, who was seated in a wheelchair. The 101-year-old woman ran her hands through Duke's white fur for a few moments before another dog was led to her.
Duke, along with his canine pals Lucy, Oshie and Dillon, made their way to other patients' rooms that evening at the hospital as part of their duty serving as therapy dogs.
Once a month, Sobota and Carolyn Rottman, Jackie Martens and Barb Swedenburg bring their dogs to the hospital as part of the volunteer program. There has been a therapy dog program in place at CCH for about five years. The number of pooches and owners involved at any one time varies, but the current group has been involved for about three years.
The monthly visits with patients are looked forward to by both owners and dogs.
Rottman, who owns Oshie, a corgi/lab mix, said each time she puts on her yellow Therapy Dogs Inc. T-shirt, Oshie gets excited because a visit is in order. Oshie, Rottman said, seems to be grinning at all times during those trips. She says it is because the dog wants to make others happy.
"We both have a desire to have other people smile," Rottman said.
The black dog is the entertainer of the group and does a few tricks for treats. Knowing tricks isn't necessary for a dog to become a therapy pet, but each does have to become certified.
The four dogs that visit CCH are registered with Therapy Dogs Inc., a Wyoming-based organization. Each canine is observed on their behavior and temperament before they are given certification in the form of a heart-shaped dog tag stating: "I am a therapy dog."
Martens started Dillon, a Sheltie, in the program more than four years ago.
"It was something I always thought of doing and would like doing with a Sheltie," Martens said.
Some of the owners also take their dogs to local nursing homes.
Whether there or at the hospital, patients give the OK if they want a visit from a dog. Sobota said 90 percent of the time they do.
"We just hang out in there and they ask questions like what kind of breed are they, where we got them and how long we've had them," Sobota said.
The visits usually last just a few minutes, but can have lasting results.
"There are all kinds of research that shows interaction with dogs has a very therapeutic effect on people. It lowers blood pressure … calms them down. It is very rewarding for us to have a patient's face light up when a dog comes in to the room," said Sobota, who also is a nurse at the hospital.
Roth said she enjoys getting to see the dogs.
"I like it when anyone visits," she said.
The only requirement, aside from being well-behaved and getting along with other dogs and people, is that the animal has to be at least a year old. Size doesn't matter, as one can tell by looking at the four. Duke is the largest and Lucy, a Pomeranian/Shih-Tzu mix owned by Swedenburg, weighs in at 4½ pounds.
When the owners walk down the halls in the hospital with their dogs, patients aren't the only ones who get excited. Staff also welcome the visitors and stop to give the canines a pat on the head or a hug.
The affection is just part of a day's work for a therapy dog.
~ Courtesy of TV10 Ohio
Tags: Columbus dogs, hospital visits, therapy dogs