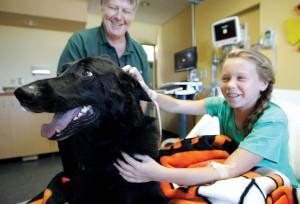 Zep is a coal-black German shepherd on a mission. He's a therapy dog who visits patients recovering from illnesses at Kadlec Medical Center in Richland to make them feel better.
His owner, Donna Dill of Sunnyside, said he takes his job very seriously.
"He comes home totally drained of energy and sleeps for hours after visiting critically ill patients," Dill said.
"It's like he absorbs all their stress," she said, comparing him to the John Coffey character in the movie The Green Mile. "A therapy dog can lift a patient's spirit, absorb some of their stress, and give them comfort so they can forget about their condition for a while."
Zep, 5 years old, dropped in on 11-year-old Kendle Dodson of Pasco, who was hospitalized with diabetes, during a recent visit to Kadlec.
"He's so cute," Kendle said, scrambling to sit up in bed when Zep arrived. "He lets me pet him and hug him. He's so sweet."
Kendle's dad, Riley Dodson, had no problem with Zep giving his daughter some love.
"He's just a beautiful dog," he said. "Well-behaved and he makes everyone feel good."
That's pretty much the same way everyone, including patients and staff, feel about Zep — all 115 pounds of him.
Dill works the graveyard shift at Kadlec as a nurse when she's not raising German Shepherds at her Sunnyside home or accompanying Zep as he makes his rounds at the hospital.
"Zep visits Kadlec every two weeks for about two hours," Dill said. "His younger brother Blue is testing to become a therapy dog. He, too, has a gentle spirit like Zep, so it will be interesting to see how he does."
It takes several hours of prep time before Zep heads out for his rounds. He gets a bath, pedicure and teeth brushing. He and Dill are greeted at the hospital by Linda Dunn, who heads the Tri-City Therapy Dog Association, and accompanies them.
Dunn has been involved with therapy dog programs for more than 30 years, and it's a job she loves, she said.
About 30 dogs of all sizes and breeds visit the sick in the Tri-City area. About 10 visit Kadlec on a regular basis.
"Zep has been visiting patients at Kadlec for more than a year now and has become everyone's favorite therapy dog," Dunn said. "He is awesome. Patients love him, the staff loves him, and he loves them."
Therapy dogs are used in hospitals all over the country. They also serve other needs when people are in distress or require comfort after a trauma.
"We use them at hospices, cancer centers, schools, colleges, police departments, court houses, home health, dentist and doctors' offices, and funeral homes," Dunn said.
The dogs also visit nursing homes, rehab centers and veteran hospitals.
Columbia Basin Hematology & Oncology in Kennewick started having therapy dogs make house calls about two months ago.
"We love our therapy dogs," said Shelly Gaines, a supervisor at the cancer treatment center.
Some of the pooches who visit the facility often are a Doberman Pinscher named Shrek and a border collie named Nellie.
"Many of our patients are here for hours receiving chemotherapy. Having the dogs drop by takes their minds off the treatment they are receiving for a while," Gaines said.
Lourdes Medical Center doesn't have a therapy dog program yet. Kennewick General Hospital started its Paws for Patients therapy dog program in 2006. KGH's first therapy dog was a 140-pound Leonberger dog named Braemar, who died last year.
The KGH medical staff was hesitant at first to allow dogs in the hospital. Once Braemar came on board and proved his worth, attitudes changed, Dr. Steve Kincaid told the Herald in an earlier story about Braemar.
"Patients absolutely recover faster with therapy dogs visiting them," Kincaid said. "The dogs remind them of home and more pleasant times."
It takes special training for dogs to become therapy ambassadors. They must be registered with PetPartners.org, undergo an evaluation, then complete a training process. The expense for certification and training can run hundreds of dollars, Dunn said.
A therapy dog can be any size, any breed, but must have a gentle, obedient nature, Dunn said.
"The dogs are asked not to visit the hospital more than twice a month," she said. "Preferable every other week. Sometimes the dogs have to take a month or two leave of absence."
That's because sick patients can drain a dog of his/her energy, and too many visits can burn them out, she said.
All therapy dogs undergo the same testing, evaluation and training procedures whether they work through Pet Partners, Therapy Dogs Inc., or Love on a Leash, Dunn said.
"Meadow Hills Veterinary Clinic oversees and donates the health screening for KGH therapy dogs as a service for the community," she added.
~ Courtesy of The News Tribune
Tags: dogs comfort children, dogs in hospitals, hospital program, Therapy dog