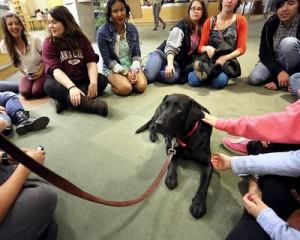 SANTA CRUZ — A four-legged stress buster has been providing relief for hardworking UC Santa Cruz scholars.
Layna — a certified canine good citizen and therapy dog — was on campus to help stressed-out students improve their moods.
The 5-year-old black Labrador retriever spent two hours at the Science and Engineering Library on Friday surrounded by a giggling scrum of roughly 30 dog-deprived students. As many as eight hands petted her squirming body at the same time, while Layna wagged her tail and licked as many happy faces as she could.
Research has shown that petting a dog helps people relax, as well as elevates their mood and sense of well-being. With final exams scheduled to begin Tuesday, a lot of students need a break from the tension. The friendly, petite dog provided the perfect antidote.
"This is awesome, I love it," said Katharine Magana, a junior who was taking a break from studying for her genetics final. "This is a nice de-stresser."
Layna's owner, Ann Hubble, has witnessed students' study stress all too often as a UC Santa Cruz librarian. She has seen firsthand how well students on campus react to encountering a friendly canine, where dogs are not normally permitted. Originally Layna was being trained as a guide dog for the blind. Hubble started taking the black lab to work with her when she was about 5 months old, and Layna attracted positive attention every where she went on campus.
"She got an early start on learning to socialize and behave around lots of people," Hubble said.
Layna was dropped from the guide dog program after she developed problems with her back legs. She wasn't ready to retire, however. So Hubble and her partner, Storey LaMontagne, began training Layna to serve as a therapy dog. After passing both her Canine Good Citizen and therapy certification tests, which were administered by a local dog trainer, Layna was ready to work.
Since 2011 Layna has participated once a month in the Santa Cruz Public Library's Tales to Tails program, visiting the downtown branch so children can read aloud to her. Recalling how positively university students reacted to Layna in the past, Hubble convinced university officials to let Layna come to the library and provide stress release as part of a pilot program. She hopes to be able to expand it and offer it again next quarter.
"My interactions with students during the time I brought Layna to campus when she was a puppy-in-training indicated this was a good idea," Hubble said. "Students would seek me out at the reference desk so they could visit with Layna."
Layna and Hubble spent two hours Thursday evening at the school's McHenry Library, where Layna was constantly surrounded by smiling students. Many wrote messages to Layna and her handler on a sheet of paper. The phrases "so cute" as well as "this is awesome," were repeated several times. The majority of the messages, however, urged Hubble to "bring her more often!"
Student Janice Hwang, who is majoring in molecular, cellular and developmental biology took a break from her studies Friday evening to see Layna. The dog lover also had gone to the McHenry Library for a dog fix the night before. That Layna break lasted longer than she had intended.
"It was so hard to say goodbye," Hwang said. "We need more dogs here."
Using dogs to help students relieve stress is gaining in popularity at other universities. Other campuses in the UC system have sponsored drop-in stress reduction programs involving therapy dogs. Therapy dogs also provide relief for students at Harvard University Medical School and Yale Law School, Hubble said.
"Both have regular therapy dogs available for 30-minute checkout to students," she said.
~ Courtesy of Santa Cruz Sentinel
Tags: Layna, Stress Dogs, stress relief dogs, student stress, Therapy dog, UC Santa Cruz