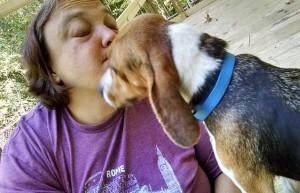 Heather Nash is a client at the UNC Center for Excellence in Community Health. She is participating in the second session of a new program called UNC PAWS, in which clients are providing training to a group of shelter dogs to help them land in a permanent home.
PITTSBORO —As other trainers worked to teach dogs commands for "sit" and "heel" in a backyard at a therapeutic farm in Pittsboro on Thursday, Heather Nash petted a playful, energetic beagle named Rosie.
Rosie seemed to be resisting obedience training. She stopped to roll in the grass on the way to the yard and had made a play for a bag of treats that Nash was holding.
"You do have a long way to go," Nash said to Rosie. "You're goofy."
Nash and Rosie are part of a program called UNC PAWS. Launched by the UNC Center for Excellence in Mental Health, the program connects clients of the center who may have depression, schizophrenia, bipolar disorder or developmental disabilities with shelter dogs.
In the program, the dogs learn skills to improve their chances for adoption, and the clients get therapeutic benefits.
Just being around animals makes her happy, Nash said. She said she has depression, attention deficit disorder, high blood pressure and is HIV-positive.
"I'm kind of giddy when I come here," she said of the program, which is run at the center's therapeutic farm, The Farm at Penny Lane.
The center is part of the UNC School of Medicine Department of Psychiatry, and provides in-home and office medication management, therapy and other services for about 1,600 people with mental illnesses, substance abuse issues or developmental disabilities.
The center launched the dog training program in August as a new service at the farm. The farm also offers horticulture therapy at a community garden planted with okra, sweet potatoes and other plants. It also has a bee hive and chickens.
Thava Mahadevan, the center's director of operations, said they started working on UNC PAWS about a year ago.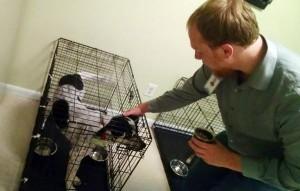 Bryan Ragan is the program manager for the new shelter-to-pet program UNC PAWS. In the program, dogs from the animal shelter are paired up with clients of the UNC Center for Excellence in Community Mental Health to provide training for the dogs to improve their chances of adoption. In addition, the clients get the therapeutic benefits of interacting with the animals.
Previously, the farm was home to a substance abuse treatment facility for pregnant women, Mahadevan said. A nonprofit mental health services agency that he founded called XDS Inc. bought the farm in 2008. UNC later merged with that agency.
They renovated a building that was used an office. Now, they house four dogs in crates on one side the building and run the training program in the yard behind it.
"It has been phenomenal to watch the clients open up to the dogs and find purpose in this activity," said Bryan Ragan, UNC PAWS program manager. "Patience is key. That's a challenge for everybody."
In 12-week training sessions, Ragan said clients are teaching the dogs commands such as "sit," "stay," "leave it," and "cuddle." They train the dogs primarily using positive reinforcement, using cereal as treats.
"Some (dogs) are getting it, and some are still struggling," said Ragan, who learned to teach dog obedience with the Wilmington-based foundation. He also has a master's in clinical social work and training in veterinary social work.
So far, the program has been successful in getting the dogs adopted. After the very first session, Ragan adopted one of the dogs, and the other three were adopted as well. Nash said she saw one dog go from a "hurricane" to calm in the first session.
The program benefits the clients, too, Ragan said. They get social interaction, a potential job reference from the program, and what Ragan said is "unconditional positive regard" from the dogs.
While he said most human relationships are conditional, if you pet a dog, "you're its favorite person."
"It won't love you less because of any mistakes," he said. "It just loves you. That's a positive tool."
And Mahadevan said there's evidence to show that "just being around dogs" can help alleviate symptoms of high blood pressure and cholesterol as well as stress.
To build on the program, they plan to add a "puppy development center" in January. They plan to bring a group of puppies to the farm for socialization before they go to get training as service dogs. They want to raise additional dollars to launch that second phase.
"They need a lot of socialization, and also need to be exposed to all kinds of smells and sounds and hospitals and schools and police departments and sirens – things like that," Mahadevan said of the puppies. "Puppies will be taken out with our clients going shopping….,It opens up a different world when they are walking around with a puppy."
~Via The Herald-Sun
Tags: dog therapy, health dogs, mental health dog, Therapy dog, UNC PAWS