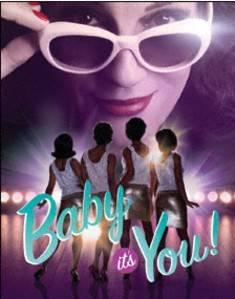 I've been absolutely dying to seethe musical Baby It's You! for a while now, and was thrilled when Ifinally got tickets to see the show. It tells the story of Florence Greenberg,a Jewish New Jersey housewife-turned-music industry mogul. After discovering anAfrican-American four-member girl group at her daughter's school, she namesthem the Shirelles and produces their first record. This becomes the initialstep of Florence Greenberg's successful career as a music executive and recordlabel owner, and the beginning of a long road of choices she must make.
The musical explores manyfeminist themes; Beth Leavel, who plays Florence,even said that "it's a great woman's story…Florence…followed her passion. And I'm soinspired by that." Crystal Starr Knighton, who plays a Shirelle, said, "Florence was amazing. Imean, to have a woman back then, when men ruled everything, just take centerstage and say 'look, this is what I'm gonna do,' and bringing us four ladiesand making us into the first girl group, she has an amazing story."
When theaudience is first introduced to Florence,she's in the kitchen with her husband Bernie, who can't understand his wife'sdesire to do anything more than drive him to the train and take care of theirdaughter and blind son. Despite Bernie's disapproval, Florence creates her first record company,sells it, and establishes a new one. Florence's fate was that of most career womenin the 1960s (and unfortunately, the 2000s also), as she was forced to choosebetween attending recording sessions and being with her family. Her son spenttime with her by writing songs for the Shirelles, but her daughter was oftenneglected. Bernie also resented Florence'snewfound passion and the attention it took away from him.
Racial tensions were alsoapparent throughout the show, often intertwined with women's issues. Early inthe Shirelles' career, Florencepartnered with Luther Dixon, a successful African-American songwriter, and becameromantically involved with him. When he first approached her about writing forthe Shirelles, he explained that no one would take Florence seriously becauseshe was a woman, just like his talents were dismissed because of his race;between the two of them, they could make up for the discrimination. When Berniefound out that the two were more than just business partners, he called Florence and said, "Withall the yiddels in the business, you had to pick a shvartza?"
When the Shirelles were on tourand performing in pre-civil rights south, they were forced to stay in a hotelon the seedy side of town rather than the fancy hotel across the street fromthe theater. When Florenceheard, she moved to their hotel, despite Luther's hesitation. "If it's goodenough for them, it's good enough for me," she explained.
When I found out that BabyIt's You! got poor reviews, I was shocked. I absolutely loved it, and theaudience seemed to feel the same way as I did - at the end of the show, thecast sang a few oldies, and everyone was dancing in their seats. New YorkTimes theater critic Charles Isherwood dismisses the musical's premise asyet another Broadway show for baby boomers, comparing it to a "PBS pledge-nightspecial…devoted to oldies but goodies," among sarcastic quips and rarecompliments. I checked out Isherwood's remarks on Million Dollar Quartet,another Mutrux/Escott jukebox musical about 1960s singers, and his comment was"It…recalls PBS documentaries…but the sometimes canned storytelling gets thejob done." Why is it that a play about four male singers can be PBSesque, but aplay about four female singers and their female agent not? I doubt thatIsherwood was purposely being sexist - he does say that the musical "at leastoffers a distaff twist" and calls Florencea "proto-feminist heroine." However, it still bothers me that Caucasian men canbe celebrated on Broadway, but African-American and Jewish women are shunted tothe side.
Again, I thoroughly enjoyed BabyIt's You!, and wish it was staying on Broadway longer - it's only playinguntil September 4. Get your tickets before it's too late!