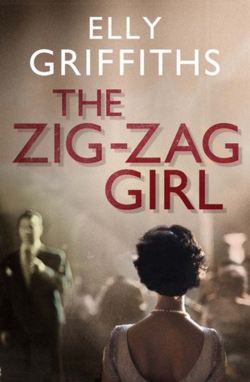 I'm fond of crime novels set in Britain's post-war years, and I've enjoyed Elly Griffiths' Ruth Galloway series, so this should have been a winner. But though the ingredients are all there, somehow The Zig-Zag Girl didn't manage to set me on fire. I suspect that this may have something to do with the fact that I listened to it as an audiobook. Not that there's anything wrong with that -- I have an account with Audible and get through my two novels a month with no trouble and usually a huge amount of pleasure, as with my recent experience with Peter Carey's Theft. When the reader's good, this can actually add to your enjoyment, but of course the opposite is also true. The reader here, Daniel Philpott, is an Audible regular, though I've never listened to him before. I don't like rubbishing people, but for my money the narration didn't really measure up. This is a shame, as the premise and setting of the novel are certainly intriguing. And let's face it, I might just be being unduly fussy, so don't let me put you off.
 The story is set in and around Brighton. The year is 1950. A young policeman, Detective Inspector Edgar Stephens, is assigned to a puzzling case. Two boxes have turned up in the left luggage department of the railway station, and they prove to contain the head and legs of a woman. Edgar is immediately reminded of a trick often performed by his old friend, the celebrated magician Max Mephisto: the Zig Zag Girl, in which a girl is supposedly cut into three on stage. When the missing torso is delivered to the police station in another box, which proves to be addressed to Edgar's old army name, Captain Stephens, the connection to Max becomes even stronger. The two men served together in the war, in a special -- and rather bizarre -- unit called The Magic Men. Luckily Max happens to be performing in a variety show in Brighton, so the two men start to work together to solve this, and several other subsequent magic-related crimes.
Griffiths does a great job of evoking the period, over which the shadow of the war still hangs. We've met this grey, rather deprived kind of setting before, of course, in the novels of people like Laura Wilson, Andrew Taylor, and  others. What's new here, though, is the insight it gives into the world of popular entertainment. Max is a hugely talented magician, but tastes have changed since the war, and audiences now demand comedy (or comic magic, as in the case of Tommy Cooper, who pops up here and there as a youthful indication of changing times) rather than magic. Max has reached forty, and sees his life stretching ahead of him as a series of seedier and seedier venues, more and more depressing theatrical lodgings, and increasingly less attractive girls to share his bed for a week. Then there's the ancient, increasingly useless magician Diabolo, the unpleasant comic Tony, and the stream of  hopeful young showgirls only too keen to help Max with his act. Edgar, meanwhile, is filled with doubts about his ability to be a good policeman, guilt over his unsatisfactory relationship with his mother, and regrets over the loss of Carys, his beautiful wartime girlfriend who died in a terrible accident at sea. 
There's something pleasantly golden-agey about all this, though the crimes themselves are perhaps a little gorier than we're used to meeting in novels actually written at the period. I must say that, though I didn't guess the demouement, I did find it a little hard to swallow. But the whole approach here is fairly lighthearted, so I guess we have to take it in that vein. I imagine we may be meeting Edgar and Max again sometime, and I'll be happy to give them another go, though I suspect that will be on paper rather than through the earphones.