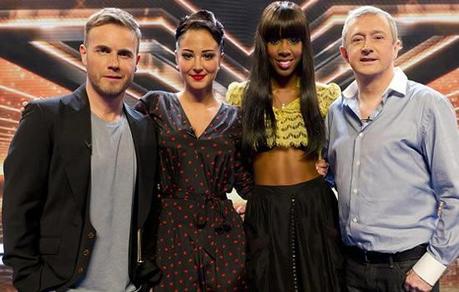 X Factor 2011 is well underway. We're three episodes in with three new judges. Gone are the days of Danni annoyingly praising performances as 'BOXFRESH!', and Cheryl proclaiming 'You are right up my street' in response to Cher Lloyds incredibly cringe-inducing audition. We are also no longer subjected to Simon Cowell's awe-inspiring smugness as a result of his supposedly brilliant array of putdowns. On top of this, for the first time we have some judges who have actual real-life talent, and not just one, but three. The benefit of this has already been seen; when Tulisa told the really shitty girl band Angel that they couldn't sing, one of the band retorted with 'That's rich coming from you'. Had this response been aimed at Cheryl or Danni, it would have been true, and pretty cutting, but the fact that Tulisa is in fact a decent singer, it really did just make the auditionee look like a proper bitter twat. The fact that criticism is coming from talented artists, and not celebrities whom ITV has tricked us into believing to be experts, lends credence to there words, and in that respect at least, this is a better judging panel. 




Anyhow, I'll now write a bit on each episode, and the auditionees whom ITV have chosen to be our protagonists for this season. 

Episode 1

So after we had the previous successes of the new judges shoved down our throats for a while, this first episode gave us a few interesting auditionees. Frankie Coccozza, the bloke with the girls' names on his bum was an OK singer, but more of an opportunity for us to see how 'super-fun' Kelly Rowland is, saying that she wants her name tattooed on his arse next. We had the weird Chinese lady, and then Janet Devlin, who is essentially Ellie Golding a few years later. She sung Golding's version of Your Song (the one from the M&S advert last Christmas) and did a decent job, just like the original but a bit worse. The way she said 'done' in the chorus was also really annoying. I know it was to do with her Irish accent, but it meant that it didn't rhyme with 'song' and just sounded a bit silly. After this, we were given a brief snapshot of 'pizza slapper' Roxy Yarnold. Her lack of sob story (she wasn't weird or shy and has a job and everything) meant that she won't go far, but her voice, from the snippet we heard, sounded brilliant. The show climaxed with a crap returning auditionee giving Tulisa major attitude. This was a chance for the judge to show she was feisty but controlled. She said something along the lines of 'A few years ago I would have punched him, but now I have no anger'. This was bullshit, you could see her boiling over inside, and you knew that if she wasn't on TV, there would have been some claws out. This isn't a criticism, I prefer this attitude, and I think we should all keep our fingers crossed that on the live shows she properly loses it. 

Episode 2

Now that we had gotten to know the judges a bit, the prominent theme in this episode was the 'Susan Boyle effect' i.e. fucking weird, funny-looking people who exceed expectations. But while Susan Boyle was actually pretty good (although she would never have gotten anywhere if she hadn't been a strange minger), these contestants have only managed to be a little better than you would expect from their looks. However this seems to be enough for the judges, and we started with Johnny Robinson who sung At Last. His tone was horrid, but the fact that he was partly in tune, and put in a little vibrato meant that he was loved by everyone. There was also the guy who was in love with Kelly Rowland, and unlike previous infatuated contestants who couldn't get near the tune, this guy could, and so again he was praised. In previous years, Simon Cowell would have slated these contestants, but would have been outvoted, leaving him (pretending to be) seething. However Gary Barlow has made a rather half-hearted attempt to become 'Mr. Nasty', and when he does try a putdown, his northern accent just doesn't have the same impact as Cowell's snobby queen's English. 

This theme continued with Craig Colton, the fatty who worked in a biscuit factory (lol), and had clearly copied his 'look' from Topman's website 

with his matching red shoes and jacket 

(

a look which might be OK on a normal-sized person). While he was less bizarre than the previous weirdos, he was infinitely more talented. He had a great tone and a Newton Falkner type thing to his voice, however may have been restricted by the fact that he was only singing out of one half of his mouth (see picture). I suspect he may be holding back the other half for bootcamp, and can only imagine how good he'll be then. Amongst all the funny-looking people, there was a talented band, The Keys, who had a great lead singer, a decent rapper (part of the Cher Lloyd effect) and an articulate spokesman, however given the fact that the band was allegedly assembled two weeks before the show, they lack the back story to go far. The show finished with Misha Byron. After a long sob story about how she was brought up by her aunt, she started singing Respect (a black girl singing Aretha Franklin - how original). For some reason she started an octave down, and then started to belt, and give all the 'tude you would expect from a young coloured lady from a rough upbringing. She also put a rap in the middle which was less cringe than Cher Lloyd given that she actually is black rather than just trying to be, but still made me want to gag her. At the end of the day she was no Alexandra Burke so she may well be the next Gamu, even if she does have a valid visa.

Episode 3

This episode continued the Susan Boyle theme. Starting with an aging rocker doing David Bowie who couldn't really sing, but walked into the audience, which obviously prompted the judges to give him that 'You're a real crowd pleaser' line. He was followed by Luke Lucas, a chubby 16 year old who claimed to be in love with Tulisa. ITV is obviously trying to fool us into thinking the show that has two judges with the sex factor, but in that respect Cheryl is pretty much irreplaceable (apart from in the US version where I'm sure Nicole Scherzinger will suffice). He sung Who's Loving You, and did an OK job, but was essentially a poor man's Shaheen Jafargholi (remember the 12 year old from Britain's Got Talent a couple years ago who ended up singing at Michael Jackson's Tribute). The show climaxed with Jade Richards, a fatty from Fife who's fed up with her life (nice rhyme). She was given a particularly extensive sob story, whereby she seemed to completely shun the relationship with her mother because its more emotive to see how close she is to her grandmother, who is present in her wheelchair for extra poignancy. She then sung Adele's Someone Like You. She sang in tune, and with her eyes closed, and because of her 'moving' story, the judges claimed that she 'really meant every word she sung' and 'really connected with the music'. The show got a little ridiculous here. Kelly Rowland brought out the tears, and showed her clairvoyant side as well as becoming the modern day Martin Luther King Jr., stating that she 'had a dream' about this audition. This really upped her cringe factor to a decent 8, and was a reminder that she's American, and just doesn't get it. The absurdity climaxed with Louis Walsh following Kelly's lead, and breaking down into tears. What a bender.