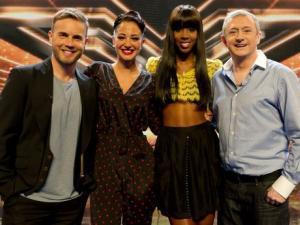 So we come to 'bootcamp'. Now I'm amongst the many people who detest the fact that they call it boot camp. Bootcamp is a place where soldiers are trained. Attending a program at Sandhurst, for example, is said to be the hardest thing any of the recruits will ever go through. So to compare a couple of days of singing to intense military training really is quite ridiculous.
Episode 8
That aside, this years camp, which Louis called the most 'brutal' ever included a few changes. These included a party, cuts before contestants even sung, group performances and an audience. The show started with a party which could only be described as 'lavish' considering we were shown participants stating this on multiple occasions. Frankie Coccozza was the featured contestant at the event, continuing his sleazy ways as he managed to knob one of the girls. The girl subsequently underperformed when she sang, a failure which could well be credited to her newly contracted chlamydia.
All the while, the judges were elsewhere, choosing contestants to axe. The fact that they summoned these contestants to London just to make a point about how 'brutal' the show is was just a little silly. Nonetheless, they broke the news the next morning, before telling the remaining contestants that they would be singing in groups. The next portion focused on the fighting amongst group members, and finally, after half an hour of watching the singing competition, we heard some performances. They were pretty much all crap. No groups backed each other up or attempted any harmonies, defeating the purpose of the exercise to see how contestants could work with others. Individuals were obviously unhappy with the style of their songs, and were often singing out of their ranges. A prime example was Lascel Woods singing You've Got the Love, rushing every word so that he could squeeze in his riffs at the end, which simply didn't work. The show tried to counter these awkward performances with the judges saying how certain individuals 'shone'. These included Frankie, Janet Devlin, Misha Byron (with some sort of purple gel on her head channeling her inner eccentric black woman), Kitty Brucknell, Amelia Lily, Marcus Collins, Fat Sami (in fancy dress as an African Queen),John Wilding, Craig Colton and Terry Winstanley. There was then the drama of others tanking, including Luke Lucas, Johnny the Weirdo and some girl called Lizzie who looked like a rock. The comedy was provided by Goldie Cheung, singing Born This Way in which 'this way' clearly meant 'a prostitute'. Finally, there was one good group performance which included Fat Jade, The Keys and Joe Cox.
After all this 'action', we got the results. Obviously everyone who was praised got through. Unsurprisingly, those who had disappointed but were already judges' favourites also got through, showing that performing under pressure means nothing. Even less of a surprised was the fact that they made groups out of the rejected solo artists.
Episode 9
So we get down to the next round of 'bootcamp', and the judges hand out the latest 'challenge'. The contestants will be… surprise surprise... singing a song chosen from the judges' list. And they have to 'make it their own'. We started with Mischa, singing Survivor, except she put in a rap about her 'childhood' and 'where she's come from' which gave the evidence for her really, truly being a 'survivor'. The most notable part of the audition was her atrocious outfit; some sort of leopard print/purple dressing gown, making her look like a chunky Grace Jones.
There were then pretty predictable (but good) performances from the likes of Amelia and Fat Jade, followed by a few bad ones, including Kendro. We next had Kitty, who had clearly covered her swimming costume in sequins and rhinestones to make her outfit (which she claimed cost £2,000). The performance only got classier when her stuck on Christmas lights began to flash during the song. Taking on Kitty in the slut-factor was Goldie, who sung the same song and also showed plenty of flesh.
Other featured acts included Frankie, who was again rather weak vocally, which was even admitted by Gary, but then again, Frankie's just so darn 'cheeky'. We then got snippets of some actual talent in the form of John, Marcus, the Keys and some guy called James Michael, whose audition we never actually saw, but whom the producers have decided should be a last minute addition to the latter stages of the competition, and so have given extra screen time (we find out later who he is replacing).
There was then a montage of all the performances of the newly formed groups. The fact that they were all stuck together is testament to the fact that none of them stood out, and suggests that once again, the groups will fall very quickly in the live shows. This was followed by Terry fluffing his lines, before the climax of Janet singing Don't Wanna Miss A Thing. Janet's very lucky in that she could sing anything and the judges would be orgasming over the tone of her voice. Finally, we briefly saw Craig whom I like, and Fat Sami, whom I don't, giving their performances.
After the decision process we dragged out, we got to see the results. Everyone given screen time basically got through, including Terry, despite forgetting his words, and Goldie who is clearly the competition's joke. The one who was conspicuous in his absence was Lascel Woods. Correct me if I'm wrong, but I think he's the only act whom the producers positioned as the finale of an auditions episode not to be through to the judges houses? And isn't it such a coincidence that people have just this week found out about his porno past? Strange that.
All that remained was to discover which categories the judges were mentoring. Not many surprises here again; Gary got boys, Kelly girls, Tulisa groups, and Louis of course got the wrinklies. All the judges gave some spiel about how dedicated they will be, and how contestants can phone them in the middle of the night (sure…), before revealing locations. Here came the biggest shock of the night, when Louis DIDN'T say Ireland.
So that was 'boot camp'. I can't say it was really an improvement on previous years. The first round of cuts was pointless, the group thing didn't work and there shouldn't have been an audience considering that just makes it a repeat of the auditions. Frankie handing out his STD's however was priceless.