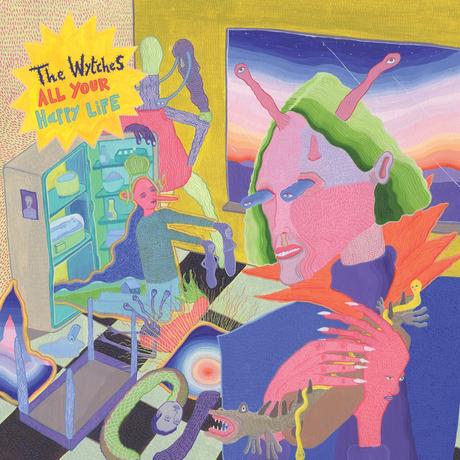 Today, The Wytches are unleashing their newest effort, All Your Happy Life, into the world. To help celebrate, we asked that they put together a list of songs that inspired the album's scorching tracks, and they more than delivered, sharing a collection that helps piece together the symphony of guitars and cutting vocals that make up All Your Happy Life. Take a listen below to get a better idea of the sounds and concepts that make up the new album.
Playlist
Deptford Goth – Guts No Glory
I like this whole album because some of his lyrics are incredibly literal. "Will you sing a song now? To deal with death." That one always gets me. The place we recorded half the album was very foreboding, an old chapel. I listened to this song in the shower a lot.
Negative Approach – Tied Down
Great straight up hardcore song. There's a video of them playing it recently in the streets in New York and they still have so much conviction. It's good to see shit like that when so many bands are reforming and just going through the motions. A very inspiring band.
Public Image Ltd. – Low Life
Never thought I would get into Lydon as much as I have. So much vibrato in his voice here. People forget he's an incredibly talented man, they get lost in his theatrics (which are obviously funny as fuck). I'll be singing live on the new record so hopefully this'll run off on me a bit.
the Dillinger Escape Plan – Sunshine the Werewolf
Everyone knows the music industry is lame, so when I get pissed off I listen to this and it makes me feel a lil better.
Slipknot – People = Shit
We listen to a lot of Slipknot in the van to keep our spirits up. It reminds me (and Kristian and Mark) of a time in Peterborough where goths and anyone who wore black got a lot of hassle for no reason. Being a part of that has always been inspiring. The counter culture I guess. And the chorus is slammin'.
Rowland S. Howard – (I Know) A Girl Called Jonny
We discussed Roland's life a lot in the band, and the way he did things and fought to the end was always inspiring. The early days of the birthday party are pretty insane. Look it up
Peter Matthew Bauer – Irish Wake up in Varnasi
Apparently it was written for his father and his father's best friend who passed away, and I just found it an incredibly sincere song. A true celebration of somebody's life. Musically it just builds and builds, and a lot of this record is very simple in the drum department but perfect for the song. Something I try to do.
Catherine Wheel – Fripp
When writing the organ parts for the album, I kept thinking back to this song. The organ is so delicate and light in a way that seems not to be of this world.
Danzig – How the Gods Kill
Danzig proves that going from a beautiful melodic intro into the burning depths of hell is how you get your jimmies rustled.
Mr Blobby – Mr Blobby
I love how this song does what it says on the tin.