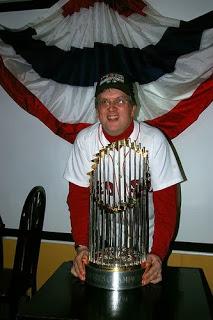 As they did in 2004 and 2007, the Red Sox are bringing their World Series trophy, newly won last month, to their loyal fans in New York City, and it will be happening next Thursday, November 21st, from 5-8 PM.
It is coming down to a function run by my good friends at The BLOHARDS, and it will be a big event.
It will be on display at The Union League Club, which is at 38 West 37th Street, just off Park Avenue. Tickets are available through The BLOHARDS, and will be $50 in advance for BLOHARDS members, and $60 for non-members or Sox fans paying at the door.
The Union League Club is a pretty high brow place, so jackets and ties are required for men, and formal wear for women. There will be ties available at the door for those of you not properly attired.
If you'd like more information, please click this link. You can order tickets online here.
I will be there doing Red Sox World Series trivia and giving out cool prizes. John Pizzarelli will be in as well, along with Dr. Charles Steinberg from the Red Sox, Ed Randall from WFAN, and my buddy, Governor Chris Wertz.
Everyone will be able to take individual photos with the trophy, like me above in 2007.
I promise you a great time will be had by all. See you there next Thursday!