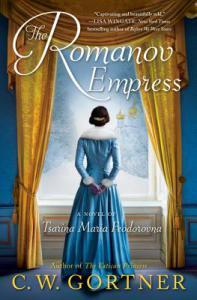 Book Cover Image: The Romanov Empress by C. W. Gortner

" data-orig-size="263,400" sizes="(max-width: 197px) 100vw, 197px" aperture="aperture" />
BOTTOM LINE: Ah-mazing!
Genre: Historical Fiction
Publication Date: 10 July 2018
Source: Publisher via NetGalley
Synopsis from the Publisher:
"Narrated by the mother of Russia's last tsar, this vivid, historically authentic novel brings to life the courageous story of Maria Feodorovna, one of Imperial Russia's most compelling women, who witnessed the splendor and tragic downfall of the Romanovs as she fought to save her dynasty in its final years.

Barely nineteen, Minnie knows that her station in life as a Danish princess is to leave her family and enter into a royal marriage—as her older sister Alix has done, moving to England to wed Queen Victoria's eldest son. The winds of fortune bring Minnie to Russia, where she marries the Romanov heir, Alexander, and once he ascends the throne, becomes Empress. When resistance to his reign strikes at the heart of her family and the tsar sets out to crush all who oppose him, Minnie—now called Maria—must tread a perilous path of compromise in a country she has come to love.

Her husband's death leaves their son Nicholas as the inexperienced ruler of a deeply divided and crumbling empire. Determined to guide him to reforms that will bring Russia into the modern age, Maria faces implacable opposition from Nicholas's strong-willed wife, Alexandra, whose fervor has led her into a disturbing relationship with a mystic named Rasputin. As the unstoppable wave of revolution rises anew to engulf Russia, Maria will face her most dangerous challenge and her greatest heartache.

From the opulent palaces of St. Petersburg and the intrigue-laced salons of the aristocracy to the World War I battlefields and the bloodied countryside occupied by the Bolsheviks, C. W. Gortner sweeps us into the anarchic fall of an empire and the complex, bold heart of the woman who tried to save it."
My Thoughts: The Romanov Empress is one of the best examples of historical fiction I have read in a long time. It has everything – exquisite details, a compelling time period, a charismatic historical figure, and extensive research seamlessly compiled into an amazing story of excess, privilege, and politics. Mr. Gortner works his magic once again to bring readers back to Imperial Russia and allows you to view its downfall from a different perspective, lamenting what was and what could have been. It is a fascinating story, one that captures your mind and your heart to the detriment of everything else while reading.
Many an author has tackled the fall of the Romanov dynasty in some fashion, usually from the last tsar's and his family's perspective as they focus on the tragedy of their deaths. Mr. Gortner instead opts to focus on the final dynastical matriarch, Maria Feodorovna. In doing so, we get a better idea of life before, during, and after the Russian Revolution. Moreover, we get a different look at Nicholas II, his beloved wife, and their children, one that diminishes the myth surrounding this doomed family. It all makes for a wealth of information that helps explain the complicated history of the Russian peasant versus the Russian monarchy to show how many years in the making the Revolution was.
Moreover, while the story revolves around Maria and her family, Mr. Gortner is even-handed in showing the mistakes both sides made along the path to revolution. He does not hide her husband's policies and use of brute force designed to root out opposition against the royal family. Nor does he hide just how ineffectual Nicholas II is. What is most surprising is how he holds nothing back in regards to Alexandra and how her domineering attitude and abject refusal to see reason about her husband, family, and Rasputin exacerbated a political situation that was already tenuous and had a direct connection to the fate her family suffered. The whole thing reads like a juicy soap opera, but it is a soap opera backed up by a plethora of research. In my mind, this only makes the story that much more compelling.
Alongside the complex politics is this story of Maria herself, a young woman of royalty raised in a household that did not have a lot of money, comparatively speaking. It was only as she approached marrying age wherein her father inherited the Denmark throne, thrusting her virtually overnight into the intrigues, etiquette, and complicated relationships that hallmark a life of royalty. Unlike other coming-of-age stories, which is essentially what The Romanov Empress is, Minnie did not question her role in furthering those ties by the requirement that she marry. She may have hoped for a love match, but she did not hesitate when duty overshadowed that. Converting her faith to Russian Orthodox, learning a new language, absorbing new customs, leaving her family to live among strangers – none of it phased her. Later, we watch her tackle challenge after challenge with the same pragmatic approach, whether it is assassination attempts, challenges to her authority, or the demise of her entire world. She was a formidable woman, worthy of everyone's respect regardless of how you feel about royalty in this day and age.
Then there is the appeal of the Russian royal society and lifestyle. The jewels, the art, the fabrics, the food, the ceremony – Mr. Gortner brings it all back to life in a way that makes you lament its loss. The details are vivid, so much so that he makes whatever he is describing seem almost too amazing. You find yourself looking up the palaces and other residences, the famous jewelry, and as many images as you can find of the people and their dresses just to make sure that none of it is a fantastic dream. The wealth of this family is mind-boggling, as is the fact that the remaining Romanov family fled and lived the rest of their lives essentially in poverty. While some readers may feel they got their just desserts, maintaining that much wealth while their nation essentially starved, I cannot help but feel saddened by what the world lost when Lenin took power.
The Romanov Empress is the type of novel that is virtually impossible to ignore. You have difficulties finding a good stopping place while reading, and you constantly think of it when you are not reading it. You lament the fact that you were either not alive or not aware of the remaining Romanovs while they were still alive. While you might not approve of any type of monarchical rule, you cannot help but feel that it would be awesome to be able to see the Romanov splendor in its heydey. Minnie's story haunts you as you constantly ponder all of the "what ifs" that make up her history and wonder how different the world would be had any part of her story been different. Tsars who have been dead for over a century seem more real to you than the current farcical U.S. leaders. Mr. Gortner has given new life to a long-dead female force of nature, and the world is a little better as a result.












Comments
Yes, indeed! by Michelle
It was SO good! I want to live in that world, even though I ... by Michelle
Oh this review makes me so happy. I had high hopes for this ... by SuziQoregon
Related Stories
Good but not great
A glimpse into the family dynamic of a child sociopath, or is she?
Megan Abbott is my hero