Welcome to 74 Lime Lane. Take a look around. You'll find popular categories in the sidebar on the right. If you like what you see you might want to subscribe to the RSS feed and the regular Lime Time newsletter. Thank you for visiting!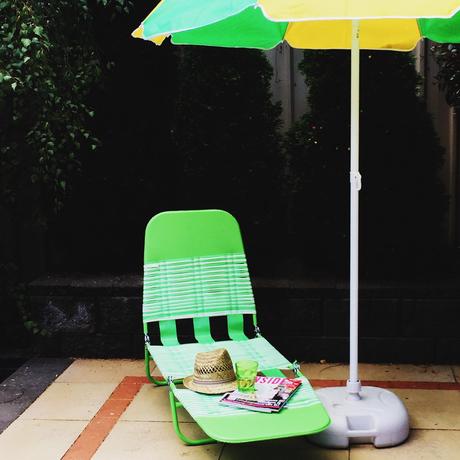 If you missed the other 4037 times I mentioned it, I've just come off a little holiday.
More of a staycation of which the highlight was the purchase and use of a banana lounge and matching umbrella.
Now I had many an hour to watch the world [ie. my back yard] go by and ponder the big questions.
I also wondered why I hadn't lashed out a bought a $25 luxurious deck chair before. (Why the Mr continues to wonder why I had … men!)
The male members of the family scoffed. "Why would you buy one of those?" "What the heck is that?"  "Do you need a strip of blue turf in front of that for the sea?" [I didn't mention I thought about dumping some sand on the paving to sink my feet in.]
But take it from me, a drink in a fancy glass sipped while lying on a banana lounge, protected from the sun by a colourful umbrella is the quickest and cheapest way to get that holiday feeling!
I'm now a proud banana lounge believer. I will humbly say I think the simple banana lounge is severely under-rated.
I would lie prone in the back yard, secluded by trees and shaded by my umbrella, in my own private oasis, occasionally  flicking through a magazine or checking in with the world via my phone. Butterflies would flutter past, birds would bob around doing their daily chores, the sounds of the neighbourhood would float across the yard and my cares would float away with them.
Sounds pretty blissful, hey.
Peace, serenity, goodwill ~ it's at the end of that banana lounge.
Smalls having a battle of wills. Maybe some time out in banana lounges. If not for them at least for you.
I might be on to something here.
They don't make them in bright colours for nothing. They are designed for happiness.
Dust off that banana lounge in the back of the shed or go and buy one today.
The world needs more banana lounges.