The technology world has lost a visionary and creative genius, and the world has lost an amazing human being. Steve Jobs guided an organisation that evolved into one of the most well known enterprises, and simply the most respected by its customers and competitors, by having a a list of innovative and constantly stylish products that delivered value and fulfilment to consumer's lifestyle.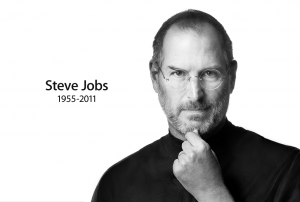 Probably this is Steve Jobs best quote, which he told to the graduating students:
"Your time is limited, so don't waste it living someone else's life. Don't be trapped by dogma, which is living with the results of other people's thinking. Don't let the noise of others' opinions drown out your own inner voice. And most important, have the courage to follow your heart and intuition. They somehow already know what you truly want to become. Everything else is secondary."
RIP Steve Jobs 
This blog is brought to you by Bonsoni.com, an online marketplace and classified ads site for buying and selling items, properties, finding a flat share, jobs, local services, free to collect items and many other categories. Our aim is to provide a simple, safe, friendly but nimble platform for people to connect with each other, and trade goods and services.