Wow, these last two weeks have been crunch time for me!
I attended a spa launching in the SoHo district of Manhattan; the salon, La'Alegria, has been in business for over two decades providing "warm and intimate" services to their clients with authentic all-natural Italian products.
So first thing I noticed is that the salon was full of folks from the neighborhood, even those that were not regular customers. You don't usually get that with many salons, so after talking with people who came to support the new launching– I was impressed. This business has made a positive impact.
Another important factor to me is diversity.
Beauty salons, sadly in my experience, have not always been competent to work with clients of color. Even though I have not used Erbe products nor have been a client of theirs; the crowd had men and women of different races and ages. One African American woman had even flown in for the weekend to attend the launch. She has been using their skin care products for ten years, and even though she lives out-of-state, she still orders them and have them shipped to her.
So with products that are all-natural and not tested on animals, it seems that a cream or cleanser from this line may end up in my bathroom cabinet soon enough.
Every attendee was given a $30 gift certificate to use at the spa; thus, as a gift to my dear readers I am giving away the gift certificate. It expires in February 2016, so if you are in New York, or planning to take a trip here within the next year, why not treat yourself at La' Alegria Spa?
So I will choose one random winner who follows me on twitter here and tweets out the link of this post (you can do this via the sharing button below). Make sure my handle @ReporterandGirl is included in the tweet and the hashtag #SpaGiveAway
But that's not all!
This past Valentine's/Singles' Awareness Day I also did a swanky event at Bed Vyne Brew in Brooklyn, where I sold autograph copies of my debut novel. It was very exciting and we even ended up staying longer than originally planned; folks also responded positively to the brief readings I did.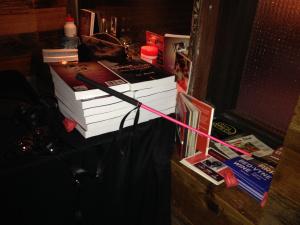 Is that what I think it is?
I had brought some props that were featured in the book (as you can see to your left). But most importantly, everyone had fun and a good time. The band was awesome and the wine was flowing, so I really want to give a shout-out to Bed Vyne Brew for hosting me and the lovely ladies to feature my book and their wonderful body oils.
Thus, I will also give away a signed paperback copy of The Reporter and The Girl! Just follow me on twitter and tweet the phrase:
But love is another world altogether…& this is not a love story @ReporterandGirl #DebutNovel http://ow.ly/JmeFC #BookGiveAway
So happy tweeting, following, and hastagging folks! I'll see you on the horizon!
Buy the eBook! It is now 99 Cents! Get it while it's hot!