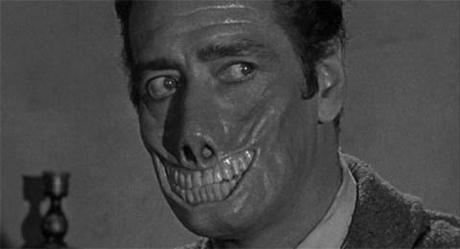 by Steve Habrat
Horror legend William Castle will be forever remembered as the king of gimmicks. He had a skeleton dangle over his audience in perhaps his most well known film, House on Haunted Hill, and he slapped buzzers on various seats and had Vincent Price encourage viewers to scream bloody murder during screenings of cult favorite The Tingler. Another one of Castle's elaborate gimmicks came with Mr. Sardonicus, his chilling 1961 answer to the gothic horror offerings from Hammer Studios. Lacking the color cinematography Hammer was noted for but certainly not shorting the audience on macabre visuals, talk of ghouls, grave robbers, disfigurement, and leeches, Mr. Sardonicus is an atmospheric tale that cleverly allowed the audience to pick how they wanted to bring this underrated effort to a close. Mr. Sardonicus has sadly never enjoyed the success that some of Castle's other work has, but don't be fooled, this film is actually one of Castle's better horror outings. The film features a solid build up, marvelous set design, eerie exterior shots that look like they were lifted right out of Hammer's Horror of Dracula or The Curse of Frankenstein, and make-up effects that are guaranteed to have you fighting to keep down your lunch. And to think this movie is based around a short story by Ray Russell that appeared in Playboy!
Mr. Sardonicus begins in 1880, with renowned physician Sir Robert Cargrave (played by Ronald Lewis) being urgently summoned by his past lover, Maude (played by Audrey Dalton), to her secluded new castle that she shares with her mysterious husband, Baron Sardonicus (played by Guy Rolfe). Shortly after arriving, Robert is met by Baron Sardonicus' fiercely loyal servant, Krull (played Oskar Homolka), who is in the process of torturing a terrified servant girl by sticking leeches on her face. Robert is reunited with Maude and is introduced to Sardonicus, who hides his face behind an expressionless mask. Despite Maude's warnings of awful things taking place in the castle and muffled screams in the night, Robert stays to protect his lost love. The next morning, Sardonicus meets with Robert and reveals that he wears a mask to conceal a grotesque grimace that has been frozen to his face. Sardonicus explains that he has tried everything to attempt to fix his disfigurement but nothing seems to work. Robert agrees to try to help Sardonicus but after his efforts fail, Sardonicus demands that Robert resort to life threatening experimental procedures to try to fix his face and if Robert resists or fails again, he will torture Maude.
While there is plenty of lurid subject matter throughout Mr. Sardonicus, the film would be nothing without its sinister gothic atmosphere, something that makes the film a perfect fit for a chilly October evening. There are castles hidden by twisted trees, graveyards nestled inside dead gardens, heavy shadows cast over the characters, and thick sheets of fog that hang heavy in the air and coil around like ghostly specters. Castle's finishing touch is the rotten corpse that leers out from its open grave, a visual jolt that hits the viewer like a strong cup of coffee. There is no doubt that the people over at Hammer Studios were most likely smiling over what Castle achieved here. This atmosphere gives Mr. Sardonicus plenty of personality and on its own, it is enough to give the viewer goosebumps, but the make-up effects really make this picture a macabre affair. The loyal servant Krull is missing an eye and Mr. Sardonicus' mask is eerily blank for the rolling menace that booms from behind the pencil-thin lips. Then there are the effects on Mr. Sardonicus himself, which are hideous enough to cause one character to commit suicide after laying unsuspecting eyes on his hellish grin. The sight really is startling and grotesque, elaborate to the point that it was very difficult for Rolfe to keep the make-up on for a long period of time.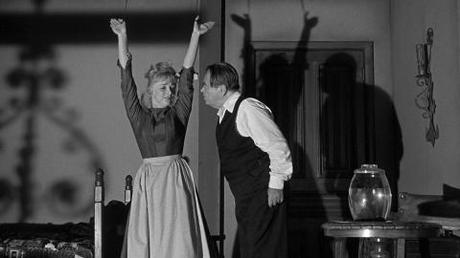 In addition to the strong atmosphere and chilling set design, Mr. Sardonicus also features some seriously noteworthy and graceful performances from its leads. Lewis is absolutely superb as the strong and whip-smart hero Robert, a man who isn't shaken in the least by the horror unfolding around him. He's levelheaded when forced to confront a nasty situation and calculated in the way he battles back against the menacing Sardonicus. Rolfe, meanwhile, plays Sardonicus as a surprisingly sympathetic monster with a tragic past. He certainly can back us up against the wall when he peels off that terrible mask to reveal an even more terrifying grimace, but there is an aura of sadness surrounding him, something that you would have seen in one of Universal's early monster offerings. Much like Claude Rains' performance in the 1933 film The Invisible Man, Rolfe is asked to bring heaping amounts of intimidation and emotion to a role that conceals his face and I must admit that he rises to the challenge. Dalton does get reduced to the whimpering damsel in distress during certain moments but the way she composes herself when her commanding husband slinks into the room is certainly something to admire. Homolka nearly steals the show as the disfigured servant Krull, a gravelly minion who assures Robert that he will do anything that Sardonicus orders him to do and he means ANYTHING. Just wait until you get a load of him sticking leeches to one poor girl's face.
Considering that Mr. Sardonicus is a Castle product, the film naturally has a nifty little gimmick attached to it. This time around, Castle passed out glow-in-the-dark cards that had a thumbs up and thumbs down printed on it to the audience. Near the end of the film, Castle appears on the screen and speaks directly to the audience about picking the fate of the monster. He cheerfully encourages them to not be sheepish and to have absolutely no mercy for the nasty Sardonicus as he supposedly counts votes. It has been said that Castle shot two endings for Mr. Sardonicus, the one that we get to see and one that spares the grinning ghoul, but the softer ending has never been shown. What is interesting about Mr. Sardonicus is that its gimmick gets to live on and it wasn't limited to a theater gag like The Tingler's seat buzzers or House on Haunted Hill's soaring skeleton. We actually get to a chance to experience the gimmick rather than having to simply hear about it from our parents or grandparents. Overall, ripe with a gothic atmosphere and brimming with Castle's fiendish frights, Mr. Sardonicus is a patient and morbid horror story that deserves way more attention than it receives. Fans of Hammer Studios will be especially pleased with what Castle gives them, but all horror fans are guaranteed to walk away with a Sardonicus style grimace plastered on their mugs.
Grade: A-
Mr. Sardonicus is available on Blu-ray and DVD.
Below are a few little bonus items that I thought were cool to include in this review.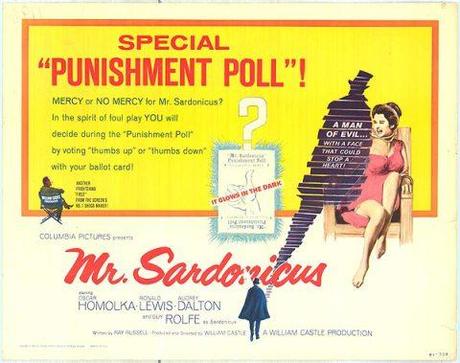 Poster for Mr. Sardonicus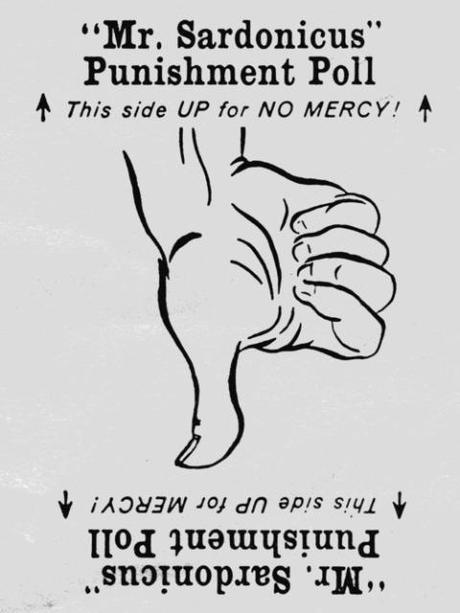 The glow-in-the-dark "Punishment Poll" that was handed out to viewers.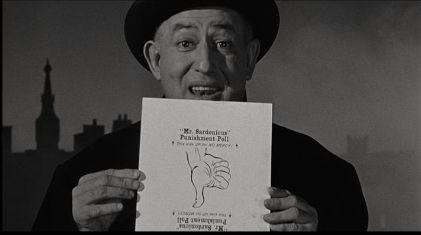 Castle flashes one of the "Punishment Polls" to the audience.
And here is the trailer for Mr. Sardonicus:
This review has been a part of…