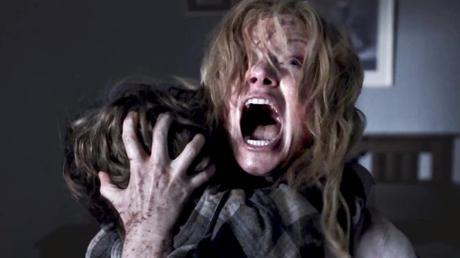 by Steve Habrat
Over the past few years, the horror genre has slowly been clawing its way out of the grave and unleashing a small-but-scrappy string of winners that packed something the genre was seriously lacking—genuine scares. In between disposable Saw sequels, rancid torture porn, painful found footage rip-offs, and countless remakes that can only be labeled as unnecessary, horror fans were rewarded for their patience with above-average genre keepers like Insidious, The House of the Devil, The Innkeepers, The Cabin in the Woods, You're Next, and The Conjuring, which kept hopes high that there would soon be a film that managed to generate the true, pulse-pounding fear of such classics as Halloween, The Texas Chain Saw Massacre, The Exorcist, and Night of the Living Dead. In the span of just three short months, horror fans have gotten their wish with back-to-back efforts from two fresh cinematic voices. I am referring to Australian director Jennifer Kent's The Babadook and David Robert Mitchell's It Follows. Emerging from the shadows of the indie film community, Kent's prickly demonic bedtime story has earned nearly unanimous praise from critics and has been promoted by a true master of terror, Exorcist director William Friedkin. And Mitchell's teen nightmare has gained momentum over the past weeks through positive word-of-mouth for its shocking ability to create an almost overwhelming sense of paranoia and dread.
First, let us take a look at The Babadook, which tells the tale of Amelia (played by Essie Davis), a grieving widow who has her hands full with her disobedient young son, Sam (played by Noah Wiseman). One evening, Sam comes to Amelia with a mysterious pop-up book called 'The Babadook,' eager to hear the tale of a monster that knocks three times and then refuses to leave. Amelia reluctantly reads the eerie bedtime story to her erratic seed, but soon after shutting the book, a horrifying force begins tormenting the duo and manifesting as a ghastly entity hell-bent on driving Amelia and Sam out of their minds.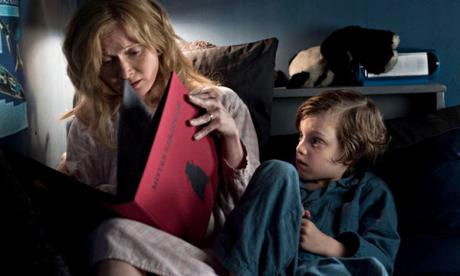 Buzzing with the spirit of such silent black-and-white classics as Nosferatu, The Phantom of the Opera, and The Cabinet of Dr. Caligari, this demonic thriller is a surprisingly thoughtful dissection of grief and the toll it can take on one's psyche. Kent certainly doesn't go to great lengths to mask the film's shadowy depth, but it's difficult to fault her for this because it forces you to get emotionally invested in the film. Those accustomed to horror films that simply make you jump by blasting the music or coaxing a character to leap out of the dark for a fake-out scare may find The Babadook's slow-burn approach to be tedious, but I assure you that as Kent gains momentum, she delivers scares that cut like one of the Babadook's jutting claws. This leads me to the monster, which the viewer only glimpses in brief flashes as it scampers in and out of the light, hiding its DIY tailoring and elevating ghoul's lingering impact to the stuff of legend. When the lights are out, I guarantee you'll shiver as you think back upon its spiderlike form and it's raspy growls that ring out from all corners of Amelia's home.
Performance wise, The Babadook features Oscar worthy turns from it's small but very capable cast. Davis is a whirlwind of agony and grief as Amelia, the brokenhearted widow who clings to memories of her dead husband. Early on, it's not hard to empathize with this exasperated mother, who is constantly trying to wrap her fragile mind around Sam's horrible behavior. The young Wiseman excels at getting underneath the skin of both the audience and Amelia in ways that not many child actors can. At times, he can be even more uncompromising and terrifying than the film's big, bad monster. Don't be fooled by the initial character sketches that Kent slips the audience, as their personalities smoothly shift for a divisive finish that will leave some holding their breath and others rolling their eyes.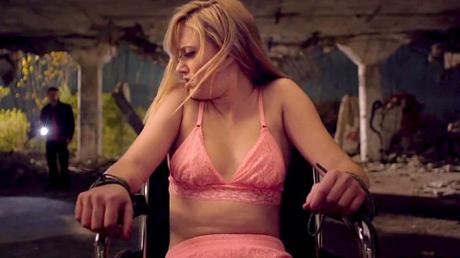 After you've gasped at Kent's expressionistic night terror, compose yourself for Mitchell's It Follows, which tells the story of teenage Jay (Maika Monroe), who finds herself smitten with a mysterious older boy. After a bizarre sexual encounter that leaves the beautiful blonde quivering half naked in the front yard of her suburban Detroit home, Jay realizes that this boy has passed on a mysterious force that will follow and attack until it is passed on to another partner. With the help of her colorful friends, Jay has to face down the force—which can manifest as anyone—before its too late.
Where The Babadook slithered out from horror's lavish, black-and-white beginnings, It Follows draws its inspiration from the slasher films of the late '70s and early '80s. You'd swear that the film is a long lost John Carpenter effort that sat overlooked on the shelf for nearly thirty years. As Mitchell's camera hoovers around the decaying streets of Detroit, Michigan (another recent horror film that makes great use of the rundown Motor City is Only Lovers Left Alive), you're left paralyzed from constant paranoia as the shape shifting monster can come lumbering towards our gang of protagonists at any given moment. When you're not chewing down your fingernails and developing an ulcer from the expert tension wrung from each frame, you'll be marveling at Mitchell's retro visual and audio style, from the hazy, early '80s fashion that the gang sports, to the rusted cars (one kid rolls around in a Cutlass), classic public-access horror films the seem like they should be introduced by Vampira or Zacherle, and winking Halloween synths that compose the soundtrack. These broad strokes and well-placed touches manage to set It Follows apart from the mainstream horror bunch and mold it into a true work of fine art. Yet they also give the film a timeless feel, which compliments the film's enduring subject matter (the fears that promiscuity can bring). There is no doubt in my mind that many exiting the theater will be furiously attempting to peel back the film's onion-like layers.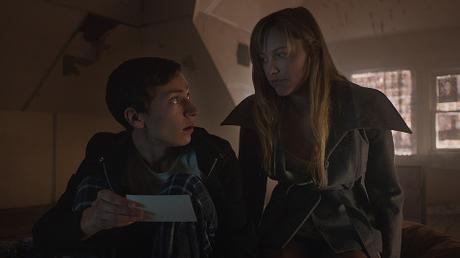 As if you needed any more reasons to fall all over It Follows, Mitchell's film is populated with a cast of kids who have some major chemistry. Each and every one injects a quirky spin that sets them apart from the countless other boring teens that shriek and sob as the monster closes in. Furthermore, none of them seem written in simply to up the body count and increase the film's amount of splatter. Much like The Babadook, It Follows isn't overly concerned with blood and guts. There are a few gross-out moments, and Mitchell doesn't shy away from graphic nudity, but this sick puppy ends up being a beast at sending your anxiety through the roof. The only flaw I can find is the film's wobbly climax, which finds our gang attempting to lure the force to one of the freakiest rec centers I've ever seen. Here it seems that Mitchell shifts into cheese territory, and in the process, he leaves bits and pieces of the action unexplained. Still, he redeems himself with a final shot that will leave many peering over their shoulders on the way home.
With both The Babadook and It Follows, horror sees two films that look back to the classics of past decades. Both Kent and Mitchell pay their respects, as they should since they have drawn their inspirations from the films that continues to haunt our dreams. Yet both directors pull off the impossible—they create unique offerings that are suspended in time. They are both fresh, exciting, buzz-worthy, and, most-importantly, sincere visions that will have us checking under the bed and peering out the blinds just before settling in for a night's sleep. What makes these two masterpieces even more special is the way they will continue to win over generations of horror fans to come. I feel confident enough to say that I think these films will climb the ranks and sit proudly next to such classics that gave birth to them. So, to Kent and Mitchell, I say bravo. I will cherish these works for years to come. Grade: A