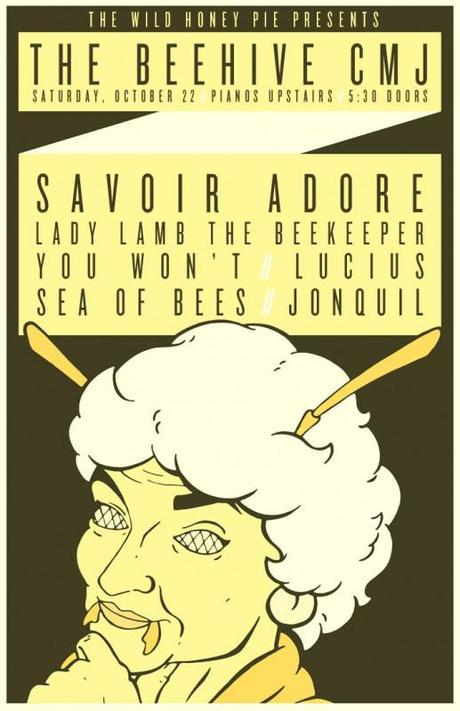 Well, now it's finally official!  We are hosting a party at Pianos in Manhattan during New York City's most incredibly exhausting music festival known as CMJ Music Marathon (or simply CMJ).  CMJ is a yearly week-long indie music fest that features the best of today's up-and-coming independent artists.  Official showcases are complimented by a plethora of free parties that put some of the best bands out there on display.  This year's festival runs from October 18-22 and will feature stand out acts such as Handsome Furs, Zola Jesus, We Are Augustines, Boy & Bear, Givers, Dale Earnhardt Jr. Jr., Gary Clark, Jr., and many, many more.
Because we like to have a good time and party down, we will be having a party of our very own!  We're taking over the upstairs space at Pianos on the lower east side of Manhattan and transforming it into The Beehive CMJ.  The Beehive CMJ is a night of live performances presented by The Wild Honey Pie featuring Savoir Adore, Lady Lamb the Beekeeper, Sea of Bees, Lucius, You Won't, and Jonquil.  This show will be absolutely free and have plenty of yet-to-be-announced perks so come by, say hello, and watch some music with us.
This party is going to get pretty freaking busy, so please RSVP and come early.  See you there!

Event: The Wild Honey Pie Presents The Beehive CMJ (RSVP)
Night: Saturday, October 22nd
Hour: 5:30PM – 11PM
Place: Pianos Lounge (Upstairs)
Price: FREE – No badge or wristband required

6 – Jonquil
6:50 – Sea of Bees
7:40 – Lucius
8:30 – You Won't
9:20 – Lady Lamb the Beekeeper
10:10 – Savoir Adore